Littlewoods Building Destroyed By Fire
3 September 2018, 09:10 | Updated: 3 September 2018, 09:13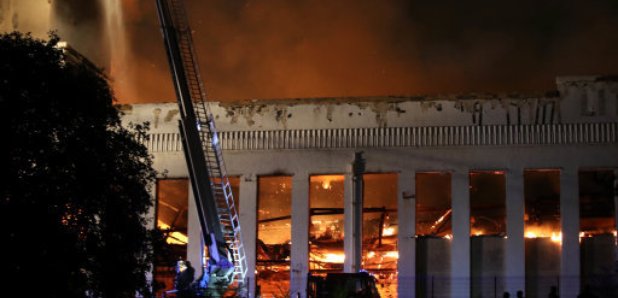 One of Liverpool's most iconic buildings has been destroyed by fire. The Littlewoods Building on Edge Lane went up in flames last night (Sunday).
Merseyside Fire and Rescue Service (MFRS) said crews were confronted with a "significant" blaze that at one point saw an area measuring 200m x 100m alight.
However firefighters were able to prevent the whole site being engulfed and the 1930s Art-Deco structure's integrity was thought to have withstood the blaze.
The former Littlewoods Pools building has lain empty since 2003, although a £50 million scheme to transform the site had recently been announced.
Among the proposals was to build film and television studios at the site, potentially bringing hundreds of jobs to the area.
Mayor of Liverpool Joe Anderson said the fire was "absolutely heartbreaking" and "a real setback".
"Let's hope and pray its salvageable," he tweeted.
Fire crews remained at the scene on Monday morning to damp down the site.
MFRS said it was first called to the building at 7.52pm on Sunday and the fire was declared to be under control at around 1.30am on Monday.
Adam Higgins, co-founder of the building's developer Capital & Centric, said the blaze had started in the west wing, which is known for its tower.
Fire crews were able to prevent flames spreading to the east wing, although the roof and an internal floor of the west wing were feared to have collapsed.
"So far all the walls remain intact and obviously they are the bits that are really iconic to people from the city," he told BBC Radio 5Live.
"The building's hugely important to us and to everyone really in Liverpool. We announced some big plans about three months ago which would bring in Twickenham film studios to the city and to this building in particular.
"I'm very hopeful that we still will be able to do that because the walls still seem to be intact and, providing we can keep them up, we can still very much continue with our plans."
Twickenham Studios, the production company that had planned to move into the east wing as part of new scheme, tweeted: "Very sad news. Hope all are safe and sound tonight. Thinking of you over there."
An investigation into the fire was set to get under way on Monday morning.
MFRS area manager Paul Murphy said the size of the building made it "extremely difficult" for crews to deal with the blaze.
"However, crews have worked extremely hard to battle this fire and have prevented it from spreading into the remainder of such an iconic building," he said.
"We are all Merseyside firefighters and this building is as much iconic to us as it is to anyone else, so we are really pleased that we have been able to prevent further spread of fire.
"It has been a challenging incident but we are in a position with the council where we feel the structural integrity of the building may remain intact."
The building on Edge Lane was built in 1938 and was part of the football pools' coupons arm of the Littlewoods empire, built up by self-made tycoon Sir John Moores.
A series of redevelopment plans have fallen through over the years.