Liverpool says goodbye to Ken Dodd
28 March 2018, 13:52 | Updated: 28 March 2018, 13:54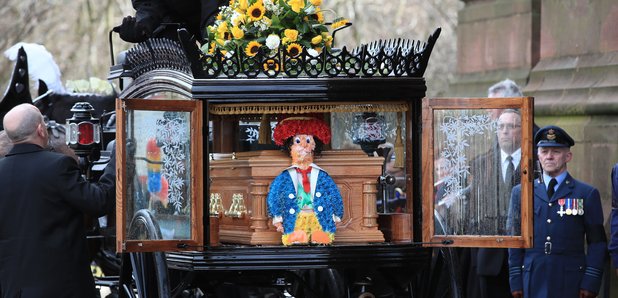 Tickle sticks are appearing across Liverpool as the city prepares to say a final farewell to Sir Ken Dodd.
The props were made famous by the much-loved comedian, who died earlier this month aged 90, and have been placed on landmarks ahead of his funeral, which will be held at Liverpool Cathedral at 1pm.
Two of the red, white and blue sticks have been placed on Liverpool Town Hall, with others adorning a statue of The Beatles on the Pier Head, the Queen Victoria Monument on Derby Square, the Cunard Building and the Mersey Ferry.
A statue of Sir Ken has been returned to Liverpool Lime Street train station for the day after it was removed temporarily for building work to be carried out.
Hundreds of mourners have gathered already for the funeral of Sir Ken Dodd at the Anglican Cathedral in Liverpool.
Along with the comedian's fans a Who's Who of Liverpool comedians and celebrities have come to pay their last respects including, Jimmy Tarbuck, Les Dennis, Tom O'Connor and Stan Boardman.
Ricky Tomlinson said he would talk about Sir Ken reminiscing about starting out in showbiz.
He said: "He was just a one off wasn't he? You can't compare anyone with Doddy.
"He inspired everyone in Liverpool and that's why so many people are here today, they loved him."
Comic Stan Boardman said: "He was a Liverpool man. He stayed in Liverpool, was born in Liverpool and died in Liverpool.
"And (he was) respected by everyone in Liverpool, not just as a comedian but as a man. He was a great fella."
Speaking outside the cathedral, comedian Roy Chubby Brown said: "I've been all over the world in my 50 years and I don't know anyone who didn't admire Ken Dodd.
"Everybody loved Ken and when I used to say 'oh he talks to me on the phone and he's a friend' I was more popular than ever."
Jimmy Tarbuck, who is due to speak during the service, said: "He was the greatest stage comic I've ever seen. I mean, at the Palladium, he did three seasons there and it was glorious.
"He never got giggle laughter, never little titters, there were roars of laughter like you've never heard. I've never seen anybody get laughs like him."
Applause rang out as Sir Ken Dodd's funeral cortege arrived at the Anglican Cathedral for the start of the service.
A horse-drawn carriage bore his wooden casket, with a bouquet of yellow sunflowers atop and a tribute to one of his trademark Diddymen alongside.
A band played melancholy ragtime jazz music before six pall bearers carried the coffin inside the cathedral with hundreds inside preparing to pay a final farewell.
As Sir Ken's casket was carried inside the cathedral hundreds of mourners gathered under a big screen outside to watch as the service began, with opening prayers led by Canon Myles Davies, acting Dean of Liverpool.
In a tribute, actress Stephanie Cole said two geniuses had been lost this month - Stephen Hawking and "dear Doddy".
She said: "Both introduced us to universes we could not have imagined, both had very original notions of time.
Paying tribute to Sir Ken, she said: "He was a gentle man. He had a deep humanity and he made everyone he spoke to feel special.
"The first time I met him I was amazed by his lack of ego and his genuine interest in all that he met."
Jimmy Tarbuck, who spoke before reading a passage based on Psalm 139, said: "What a perfect venue for our city's hero, perhaps our city's greatest hero and I'm pleased for Ken there's yet another full house."
He said he had met Sir Ken 57 years ago and "just fell in love with him".
He added: "He sang Happiness because he gave happiness."
He told the congregation it was an "honour" and a "joy" to watch Sir Ken.
He said: "He set a standard, ladies and gentlemen, which no one has remotely approached since."
He finished by saying: "I just want to thank you Ken and, in the words of Tina Turner, it's very easy, you're simply the best."