New Appeal Over Pensioner's Murder
2 February 2018, 10:10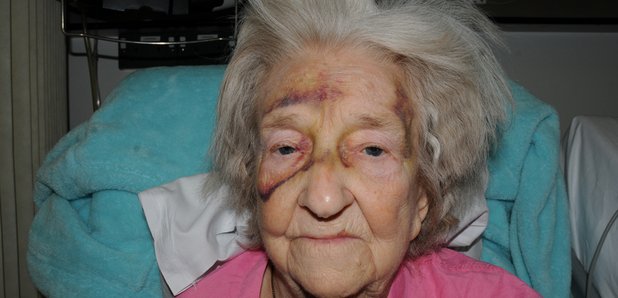 A year since a Manchester Grandmother was attacked in her home her sons have called for her killer to face justice.
No-one's ever been charged with Eileen Blane's murder. She was beaten and threatened in her house in Stretford and died as a result of her injuries two months later.
At about 2.30pm on Friday 3 February 2017 a man forced his way into the house on Castleton Avenue, he beat the 87 year-old relentlessly, demanding cash, before snatching her wedding ring from her finger.
While he ransacked upstairs she bravely managed to escape and alert her neighbours.
The attack left Eileen with broken ribs, a fractured vertebrae and further internal injuries and bruises.
She was discharged from hospital at the end of March but was sadly found dead at home on Saturday 1 April 2017.
Her son John said " I find it a bitter pill to swallow that my mum died for £30 and a wedding ring and the guy, the culprit has never been brought to justice. No it's not going to bring my mum back, no it's not going to ease any pain me and David have but it might just save somebody else"
Her attacker is described as white, aged in his 20s, about 5ft 8ins tall, slim build and he was wearing a dark coloured jacket with the hood covering his face.
A £50,000 reward still stands for anyone with information that leads to the successful conviction of the offender.
Detective Inspector John Mulvihill from GMP's Major Incident Team said: "We have three key sightings on the day Eileen was brutally attacked and we are desperate to hear from the public.
"Firstly, we have an e-fit of a man seen between 1.30pm and 1.45pm on Chatsworth Road - just five minutes away from Eileen's home.
"He was described as white, about 25-years-old, clean shaven and wearing a dark hooded top with the hood up.
"Secondly, we have CCTV of a young man in Co-Op on the Barton Road at 2.30pm where Eileen had been earlier that day.
"And lastly, a man was witnessed on Castleton Avenue about 3pm near to the junction with Bradwell Avenue. Again this man is described as white, in his late teens to early 20s and he was wearing a dark coloured puffa-style jacket.
"This man had gaunt facial features and sandy/ginger coloured hair which was short at the sides and slightly longer on top.
"I implore anyone who recognises these men to get in touch or if you believe this is you please contact us immediately. It is vital that these three men are eliminated from our enquiries.
"Even the smallest piece of information could be crucial in helping us find the person responsible for Eileen's murder and hopefully give her family the answers and closure they deserve."