North West Gears Up For 'Frantic Friday'
22 December 2017, 06:56 | Updated: 22 December 2017, 07:15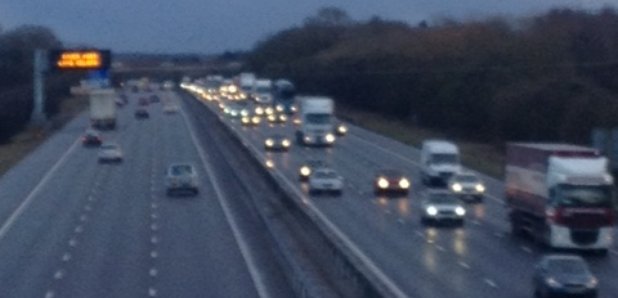 Drivers embarking on the Christmas getaway are gearing up for what's being dubbed 'Frantic Friday'.
Dr Graham Cookson, chief economist at transportation analysts Inrix, said many motorists will find themselves stuck in long queues from Friday afternoon onwards.
An estimated 1.3 million drivers on leisure trips will fight for road space with regular commuters on the last working day before Christmas.
Dr Cookson said it will be one of the worst days of the year on the roads with "incredibly severe" traffic jams.
He said: "After lunch most of the roads will get busier and stay busy into the evening.
"What we see is roads in congestion for most of the time, average speeds very slow, people crawling along.
"The pure weight of traffic means a lot of motorways will be much slower than normal so your total journey takes so much longer."
The M6 between Merseyside and Staffordshire, M1 and M4 will be "incredibly busy as well", he added.
It estimates that 11.5 million leisure trips will be made by car between December 17 and Christmas Eve, but this will be eclipsed by the 17.5 million taking place between Christmas Day and New Year's Day as people take advantage of post-Christmas sales at shops.
Almost 400 miles of roadworks will be lifted by Highways England to ease journeys.
Merseyrail staff are on strike again which means rail passengers could suffer some delays and the West Coast main line will be halted between Preston and Lancaster from Christmas Eve to December 27, with buses replacing trains.
Passengers travelling between London and Glasgow during this time are advised to go via Edinburgh, adding around an hour to journeys.
Coach operator National Express is running its largest ever Christmas schedule to meet increased demand from key locations such as Bournemouth, Cardiff, Leeds, Edinburgh, Portsmouth, Bristol, Glasgow and Manchester.
Airports, ports and international train stations are exceptionally busy with more than 4.5 million people heading abroad over Christmas and the new year.
The UK's busiest airport, Heathrow, will welcome almost 130,000 departing passengers on Friday.
Travel trade organisation Abta advised people to leave extra time to catch their flight, boat or train.