Owl Rescued after Hiding In The Storm
17 October 2017, 18:33 | Updated: 17 October 2017, 18:39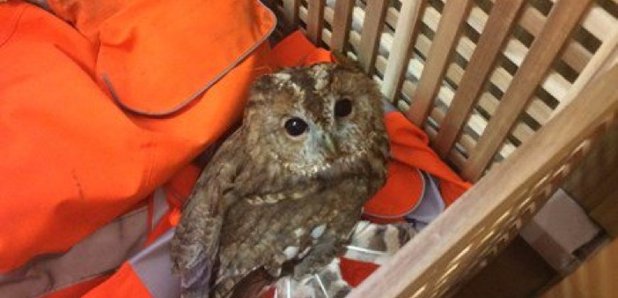 The injured bird was discovered by Network Rail staff as they carried out post-storm inspections at Styal, on Tuesday morning.
Workers wrapped the owl, who they named Tony the Tawny, in one of their orange jackets before calling the RSPB.
The bird had suffered a broken wing, injured its leg and was showing signs of an electric shock from the railway's overhead power lines, which were hit as the tree fell.
Joseph Spiteri-Braysford, from Network Rail, said: "We couldn't believe our eyes when we spotted the owl under a tree blown onto the railway during Storm Ophelia.
"It was trapped amongst the branches which had been pulled clear of the tracks the night before.
"The tree damaged the power lines as it fell - which explains the owl's suspected electric shock.
"While our feathered friend was in the wrong place at the wrong time when the tree came down, he was lucky we came back as he would have undoubtedly died if we hadn't rescued him."
Staff at the Network Rail depot in Audenshaw, Manchester, say they are waiting for an update on Tony the Tawny's condition and hope he will make a full recovery.