Pep Guardiola Praises Medical Staff
6 April 2018, 17:04 | Updated: 6 April 2018, 17:10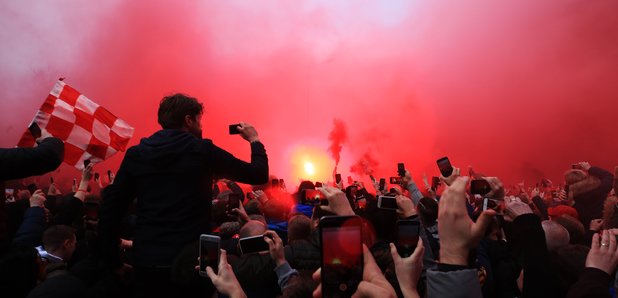 City's team bus, with players and coaching staff on board, parked close to the Arkles pub for around 25 minutes so club medics could tend to a woman who had been struck by a vehicle.
The incident occurred close to where the team's original coach was subjected to an attack by Liverpool fans before the game.
City waited until emergency services arrived.
Significant damage was caused to City's bus as fans threw missiles including
bottles, cans and fireworks on its journey to the stadium.
The attack began close to the Arkles pub on Arkles Lane, where Liverpool fans had gathered in their thousands, and continued as the bus turned onto Anfield Road. Visibility was also poor due to red smoke from flares.
City needed a replacement coach after the game, a quarter-final first leg which they lost 3-0.
European governing body UEFA has opened disciplinary proceedings against Liverpool over the matter.
The attack on the City bus should have led to the game being suspended, according to a psychologist specialising in workplace stress.
Professor Cary Cooper of the Manchester Business School told Press Association Sport: "They should have suspended the game, they should never have had the game go ahead.
"Not with players on the bus being intimidated like that. Number one, (suspending the game) is a way of punishing Liverpool and number two it's a way of sending a message that this shouldn't happen, but there's no way (the Manchester City players) couldn't have been affected by that.
"UEFA wouldn't have the guts to cancel it for financial reasons - television rights, the people in the stadium.
"The performance was totally uncharacteristic. They must have been unsettled and it must have had a psychological impact on them.
"They're going to work, they're on a bus and they're attacked - and it doesn't affect them? People think footballers are resilient.
"They are normally cosseted, away from the public, they're really well protected - and they're young. The majority of them are in their 20s, they're not necessarily life-mature and have been cosseted since the age of 16-17. Then they go to work on a bus and the bus gets attacked before a big event."
City manager Pep Guardiola said of the road accident: "We went out from the stadium, something happened with a woman.
"I think all the doctors and physios in the world would go to help. I am so proud of Manchester City people."
Referring to his team's 3-0 defeat at Anfield, ahead of the derby meeting with Manchester United, and with next week's second leg against Liverpool in mind, Guardiola added at a press conference: "It was a tough result.
"It will be so difficult on Tuesday, but we are going to try. What has happened has happened. Tomorrow we have so important a game. It is a different competition."