Police Investigate Everton Brawl
20 October 2017, 09:57 | Updated: 20 October 2017, 10:35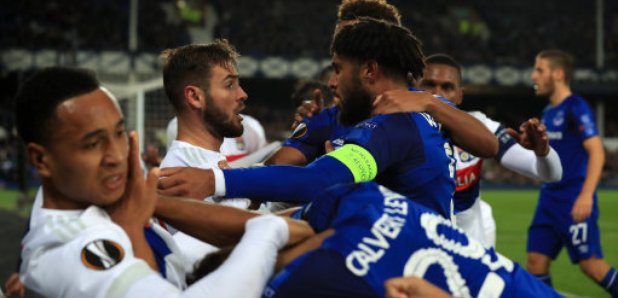 Merseyside Police are now investigating a mass brawl that broke out during the Europa League clash between Everton and Lyon at Goodison Park last night (Thurs).
The violence flared after defender, Ashley Williams, pushed the Lyon goalkeeper to the ground, causing a brawl between both sets of players. Fans behind the goal were caught on camera appearing to get involved, with one holding a young child as he swung his arm.
Merseyside Police said: "Officers are investigating following a disturbance on the pitch during a football match between Everton and Lyon at Goodison Park last night, Thursday 19th October.
"Detectives will be reviewing footage and speaking to witnesses to establish what, if any, offences have been committed.
"Anyone with information which could assist the investigation is asked to contact Merseyside Police on 0151 777 4065 or Crimestoppers anonymously on 0800 555 111."
Everton have said:
"Club Officials have reviewed the footage of an incident that occurred in the 64th minute of the game against Olympique Lyonnaise where supporters towards the front of the lower Gwladys Street End became involved in a confrontation between players. We have identified one individual whom action will now be taken against. This will include a ban from attending future Everton fixtures and the Club registering a formal complaint with Merseyside Police. "