Sergio Aguero Hurt in Amsterdam Crash
29 September 2017, 15:20 | Updated: 29 September 2017, 15:28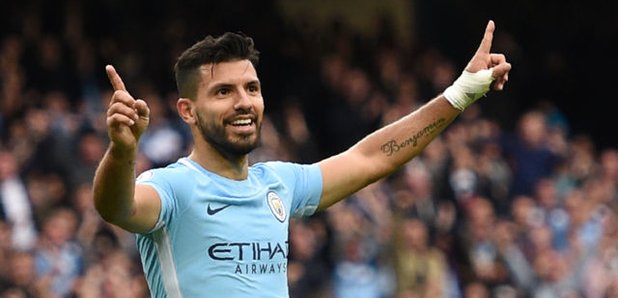 Pep Guardiola says he has no problem with Sergio Aguero spending a day off in Amsterdam which ended with the Manchester City striker suffering injuries in a car crash.
City's Spanish coach does not yet know the extent of Aguero's injuries and how long he will be out for, but said he was relaxed about Aguero spending the day overseas and will not put restrictions on his squad's free time in the future.
"A day off is to be happy," Guardiola said at his Friday afternoon press conference.
"I am a trainer who doesn't want to train every day because they (the players) need to rest, mentally and physically."
Guardiola does expect Aguero to miss Saturday's match against Chelsea and Argentina's World Cup qualifiers early next month at the very least.
"The first impression is he has broken a rib but the number of days he will be out, I don't know," Guardiola added.
It is understood Aguero's accident occurred at around 11pm as he was travelling back to the airport. He was treated in hospital in Amsterdam overnight and was due to fly back to Manchester early on Friday afternoon.
Reports appeared to confirm the injury news.
Spanish sports newspaper AS quoted Aguero telling Argentinian station Radio Metro: "The taxi driver did not see the curve and skid. And when he skidded, we hit the pole. I broke my rib, now I'm resting. It hurts me badly. I'll be discharged in a little while."
Aguero had started the season in fine form, scoring seven goals in eight appearances to help City to the top of the Premier League.
He is also on the brink of becoming the club's record goalscorer having moved within one of Eric Brook's mark of 177, which has stood since 1939.
Aguero's former club Independiente tweeted: "Force and speedy recovery @aguerosergiokun! All @Independiente is with you at this difficult time."
Aguero was in the Dutch capital to see a concert by Colombian singer/songwriter Maluma, who posted a photo of the two of them on Instagram showing the player signing one of his City shirts.
News of the accident came after it was confirmed on Thursday night that left-back Benjamin Mendy has ruptured the anterior cruciate ligament of his right knee.
The France international was due to undergo an operation on Friday and is facing a lengthy lay-off.
Guardiola said: "He will be out until our semi-final of the Champions League."