Terror Exercise At Trafford Centre
10 May 2016, 08:59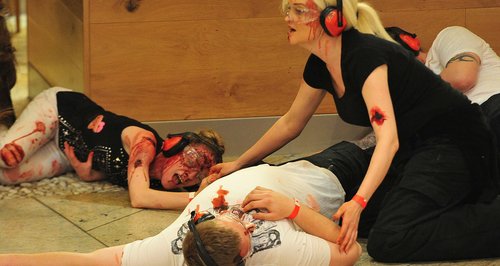 Around 800 volunteers take part in simulated suicide bomb and gun attack at one of the countries largest shopping centres.
Just after midnight, a man dressed in black walked into the Orient Food Hall and detonated a device. People fell to the floor, screaming, as smoke filled the large room.
Armed officers swopped on the centre, with the exercise testing their response to a Paris or Brussels style attack, confronted overnight with a suicide bomber and gunmen.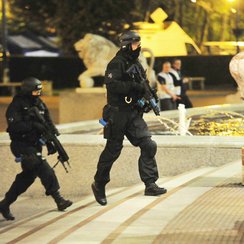 Volunteers who'd been briefed that no live rounds would be used during the operation, many had been covered in blood and given fake gun shot wounds to make the exercise as realistic as possible.
They screamed for help as a mock masked gunman stood at the top of the steps near the entrance to the food court firing a number of shots.
Greater Manchester Police, The North West Counter Terrorism Unit and the North West Ambulance Service were all put to the test, we're told only a very small number of senior officers knew the exact plan, but they stress that there is no specific threat to the Trafford Centre with this exercise being planned since December. The current UK terror threat level is described as severe, meaning an attack is highly likely, according to the security services.
The exercise, which it's reported the SAS have been involved with, continues for the next three days mostly away from the public. One of the locations is a disused young offenders' centre in Newton-Le-Willows.