Third Attack On Firefighters In A Week
28 September 2017, 12:17 | Updated: 28 September 2017, 12:21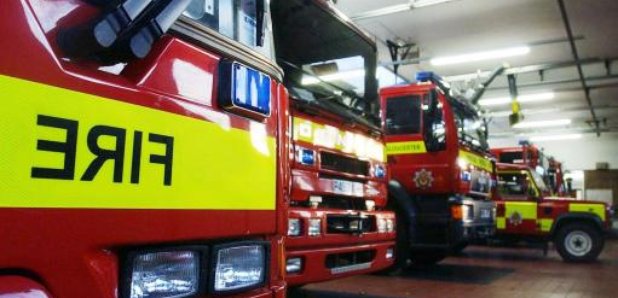 Bolton firefighters have come under attack after being called to a park fire.

Stones have been thrown at firefighters responding to a call in a park in Bolton. It happened on Tuesday evening in the Rumworth area. The were met by a large group of people who started to throw missiles at them, one stone hit the helmet of one of the firefighters.
The attack follows two similar incidents in Salford and Wigan last week.
It comes as figures show the number of cases is rising. GMFRS reported 62 cases of hostilities against firefighters between April 1, 2016 and March 31, 2017, compared with 26 the previous year. That's an increase of 138 per cent.
Since April there have been 28 incidents, including verbal and physical abuse, harassment and objects being thrown at firefighters or fire appliances. Most have occurred in Wigan and Manchester.
Area Manager Paul Etches GMFRS Head of Prevention, said: "I am really saddened to hear of yet another attack on our firefighters who are trying to help the people of Greater Manchester. Our staff work with local communities to try and educate children in particular about these issues but sadly we are still seeing these incidents increase.
The latest attack resulted in one of our staff members being hit with a stone. Luckily the stone hit the firefighter's helmet and they weren't injured and were able to remain in work but this could have been much worse.
We are now approaching the Halloween and Bonfire period which is extremely busy time for GMFRS and the other emergency services and incidents like this cause distress to our staff who are just doing their jobs, and put lives at risk. I would urge everyone to think about the impact these incidents have on their communities and please ensure they know where their children are as the evenings get darker."
Beverley Hughes, Deputy Mayor for Policing and Crime, said: "To reiterate what I said only last week, these kind of incidents not only affect GMFRS firefighters both mentally and physically but they also have an impact on the community and potentially put lives at risk.
Such attacks on emergency service workers take up valuable time and resources that might be needed at incidents elsewhere. This kind of behaviour is totally unacceptable and those who take part in this kind of activity risk facing serious consequences.