Tough night for United in Europe
22 February 2018, 05:53 | Updated: 22 February 2018, 05:54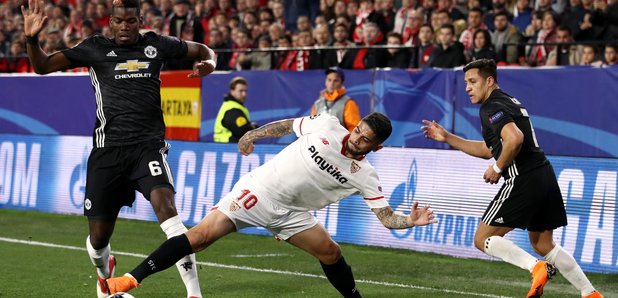 Manchester United manager Jose Mourinho appeared to take a swipe at his medical staff after Ander Herrera sustained a "bad injury" on his return to action.
David De Gea grabbed the headlines against Sevilla after producing a string of fine saves that kept the hosts at bay as the first leg of their Champions League last-16 tie ended 0-0 in Spain.
Paul Pogba had dominated the agenda before kick-off after being left on the bench, although just 17 minutes in Mourinho had to turn to the club-record signing.
Having missed the last three matches with a muscle issue, Herrera limped off and is now facing another spell on the sidelines as United's medical team comes under scrutiny.
"I think it's a bad injury," Mourinho said.
"He had a small injury that stopped him for the last couple of matches, but the medical department gave him 100 per cent ready for the last Saturday (at Huddersfield in the FA Cup).
"We didn't play him to give more work and more protection, but it looks like he was not fully fit.
"The medical department gave him fully fit. They gave him fully fit Saturday and he trained Saturday, Sunday, Monday, Tuesday, and he looked fit.
"The way he was playing during the time he was on the pitch, I think he showed that intensity that is only possible when you are fit.
"He was pressing really high, we start the match not giving one inch to (Ever) Banega, pressing him really high.
"Ander was one of them, Scott (McTominay) was the other one, and you only do that when you feel really good.
"Then the back-heel creates a contraction in the muscular area where he had a fitness problem, and now we have the proof that he was not 100 per cent fit."
Things would have been worse than Herrera's injury had De Gea not saved United's blushes, with his stop from Luis Muriel's header late in the first half particularly eye-catching.
Mourinho refrained from heaping praise on the man-of-the-match and insisted 0-0 was a fair result, despite Sevilla being on top and managing 25 attempts.
"No, I am not relieved," the United boss, who faces former club Chelsea in the Premier League on Sunday, said.
"I think we finished the game with more space with more close to the possibility of scoring a goal, so no.
"I think that the only moment where we felt relieved was in the last couple of minutes in the first half, where a couple of our mistakes in possession (meant) they had a couple of good situations, with two great saves from David.
"That gave this fantastic stadium the emotion they normally have for 90 minutes.
"Apart from that I was never relieved. The game was even, the stats are what they are.
"Sometimes you have 15 shots, but 13 of them were what I call 'statistic shots', so I really feel that the result reflects what the game was.
"You ask me is it a good result? I say it is not good, it is not bad.
"We had two legs to play and now we have one match to decide everything at Old Trafford."