Wigan boy drowns on holiday
20 September 2018, 15:53 | Updated: 20 September 2018, 16:13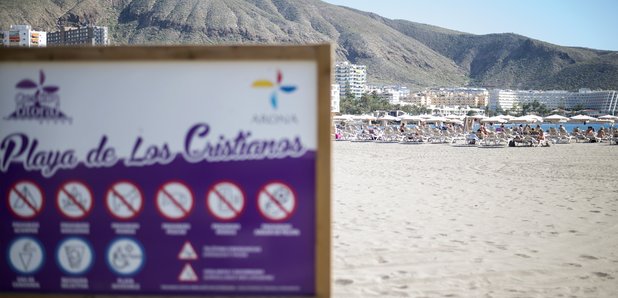 The youngster, named as Presley Stockton, from Wigan, Greater Manchester, was staying with his extended family at the four-star Hotel Paradise Park Fun Lifestyle in Los Cristianos.
A spokesman for the hotel said the boy was in the busy family pool when he was spotted by a hotel lifeguard who pulled him out at around 3.30pm on Wednesday.
The spokesman said: "He was in the family pool. It was packed, we are packed, the pool was packed with children and families.
"It is not a deep pool.
"There were two lifeguards on the spot.
One pulled him out, the other one came over and they were both doing procedures. Two to three minutes later an ambulance came, there were lots of ambulances, five or six doctors were trying to resuscitate.
"When they found out everybody was then saying: 'My goodness how can this happen?' One gentleman said, 'I was half a yard away from him.'
"He could not swim and had no arm bands on. It is just tragic, an absolute tragedy."
Mike Jolley, believed to be the child's grandfather, posted on Facebook: "Whirl wind Presley has been taken from us, Our family is broken hearted, fly high my little Angel, you was one in a million, nana Sharon Jolley Caitlin Jolley New Kirsty loved you so much."
Jade New Rendle posted: "My heart hurts so much ?? sad day today. R.i.P are Presley Stockton ! Absolutely devastated. Sending lots of love to all my family ?????? stay strong... miss you all so much thinking of you all tonight.!!!"
The spokesman for the hotel added: "We at this point are aiming to put all our efforts on supporting the family.
"The family is a large family from the UK and we are aiming to give them all the support we can.
"This has been an absolute tragedy, in our 30-year history we have never had that experience, this has never happened.
"We are doing everything we can to first of all help the family in everything they need.
"It is just one of those terrible things. We want to get to the bottom of it.
"It is just a terrible tragedy, we are all very devastated really. The staff, the family, the other guests, it's just been a terrible, dark day in the history of our hotel but nothing compared to what the family are going through."
Local police are investigating, with statements being taken from witnesses and CCTV cameras checked, the spokesman added.