Birthday Cards For William
Heart's Joel and Lorna asked you to send in your cards for William's 6th birthday... and you proved why the North West is just AMAZING!
William suffers from Muscular Dystrophy, a muscle wasting condition which affects about 2,500 children in the UK.

It's one of the biggest genetic killers in children and makes simple tasks like turning over in bed and raising a cup impossible.

One simple pleasure that William LOVES is opening birthday cards, so we wanted to deliver HUNDREDS to open on his 6th birthday.

Thanks to YOU, hundreds ended up being TENS OF THOUSANDS (24,873 and still counting!).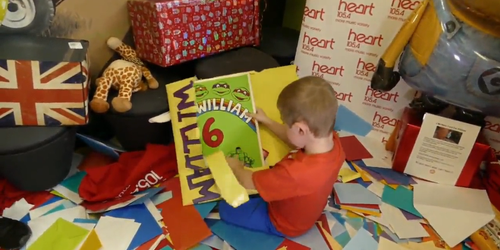 Thanks so much for all your help... we couldn't do it without you!
Joel & Lorna x