GCHQ Wants More Girl Spies
19 March 2018, 17:34 | Updated: 19 March 2018, 17:41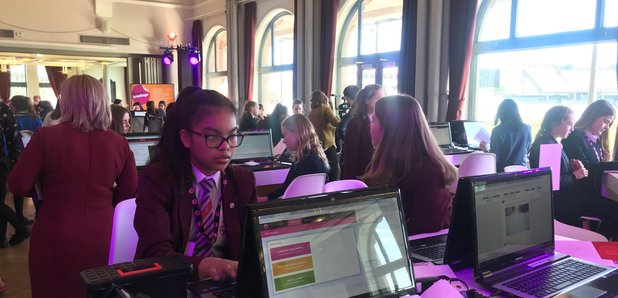 The final, hosted at Old Trafford Cricket Ground, saw the top 10 schools up against each other as they worked to solve a scenario similar to the cyber attack on the NHS.
The challenges involved tracking down cyber criminals and helping decrypt the files of a vlogging ransomware victim, while their intellect and technological skills were also tested.
Now in its second year, 4,500 girls entered this year's CyberFirst Girls competition, which aims to knock down some of the barriers that have resulted in women being under-represented in cyber security, where only one in ten of the workforce is female.
The top 10 teams beat 1,200 other schools in earlier rounds. Queen's School in Chester was the only team representing the North West.
The girls had to crack codes, search for hidden puzzles and even use UV pens to spot invisible ink.
The tech-savvy pupils are only 13, but it's hoped the event will inspire the next generation of cyber security experts.
Chris Enshor is from the National Cyber Security Centre, he says the girls competing are "the future defenders of the UK" and that many of them will likely work for GCHQ as adults.