Protest At Didcot Power Station
13 March 2016, 13:38 | Updated: 14 March 2016, 07:37
Families and friends of three men who are still missing after the partial building collapse at Didcot Power Station are holding a peaceful protest at the site today.
Three men are still buried beneath the rubble of the destroyed building which is 20 to 30 feet deep.
On the 23rd of February, a building which was being prepared for demolition collapsed at Didcot Power Station.
Michael Collings was pronounced dead and his body was recovered, his funeral is expected to take place this coming week.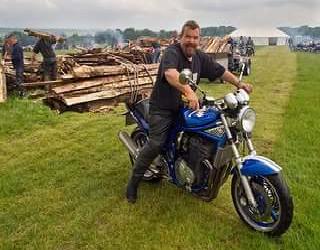 However three men are still missing in the twisted metal and concrete which came down nearly three weeks ago.
Today the family and friends of those men still missing decided to protest against the delays of bringing their loved ones home.
Here you can see the Granddaughters of Ken Cresswell who is one of the three men missing at the protest.
The families told Heart why they decided to protest, tensions were running high.
Many of those who are protesting work in the demolition industry and say they are willing to go and retrieve the men, but they don't have permission to enter the site.
Heart's reporter Bryony Waite spoke to more family friends:
Ken Cresswell's daughter Gail spoke to Heart about how she is feeling and why she was protesting.
Other families also took part in the protest.
Mollie Williams is Christopher Huxtable's niece, she told Heart reporter Bryony Waite why she was there.
Some asked for prayers.
Christopher's partner Jade Ali also spoke to Heart from the protest.
RWE Statement (through npower):
1st March:
First and foremost, our thoughts are with the families of those who have died in this terrible tragedy, and it is our sincerest hope that those who had to spend time in hospital have a quick and complete recovery.


We would also like to recognise the on-going professionalism and expertise of the emergency services throughout their response.


The health and safety of people is always our priority. We don't yet know how the collapse happened and nor will we speculate.


RWE has offered its full support to the emergency services. We would urge the media to respect the families' privacy at this extremely difficult time.


Thank You.
24th February:
Tragic accident during demolition works at former Didcot A Power Station
One employee from Coleman & Company, the principal demolition contractor, has been fatally injured / Three more employees from the same company are still missing
Late yesterday afternoon a tragic accident occurred on the site of the former power station.

Didcot A in Oxfordshire. Preparation works were in progress for demolition activities in the boiler house, which were planned for early March. Part of the building collapsed and an employee from the principal demolition contractor Coleman & Company lost his life. The cause of the accident is currently unclear.
Five more Coleman & Company employees were taken to hospital with injuries and three individuals are still unaccounted for. The search for them is ongoing and is being managed by specialist teams from the emergency services.
Roger Miesen, RWE Generation's Board Director for Hard Coal, Gas and Biomass said: "We are deeply moved by this accident. Our thoughts are with the families of those affected by this tragic incident." RWE has offered its support to all local authorities and emergency service.
Didcot A, which previously operated as a coal-fired power station, was closed by RWE Generation in March 2013. The demolition activities site have been managed by specialist demolition contractors Coleman & Company since 2014 and they are 2 years into a 3 year demolition programme.
23rd February UD:
UPDATED RWE STATEMENT 21:40hrs - Didcot Incident
We can confirm that shortly after 4pm this afternoon part of the Boiler House at our former Didcot A Power Station site in Oxfordshire collapsed while an external demolition contractor was working in it.
It is with great sadness that we understand that there has been one fatality, five people have been taken to hospital and 3 people are currently missing and unaccounted for.
Our thoughts are with the families of all those involved in this tragedy. We will provide updates as we receive them.
We are working with the emergency services who are currently on site to understand the cause of this collapse.
23rd February:
"There has been an incident at our former Didcot A Power Station site in Oxfordshire. The site is currently being demolished. We are working with our contractors Coleman & Company to establish the facts and will keep you updated as soon as we have more information."
Health and Safety Executive and Thames Valley Police Statement:
11th March:
This is a joint statement on behalf of Thames Valley Police and the Health and Safety Executive (HSE) following the partial building collapse at Didcot power station on 23 February.
"The priority of the multi-agency response remains the recovery of the missing men so they can be returned to their families. Specialist officers from Thames Valley Police continue to support the families at this difficult time and we are providing them with regular updates on the progress.
"The site owners RWE have overall responsibility for the safety of buildings and structures on their site. They must produce a plan for a safe method of working before the next stage of the recovery can begin. Once this is received and approved by HSE, emergency services are on hand to recover the missing men.
"Preparation at the site, for the recovery, is taking place and will continue over the weekend.
"We are working hard to identify as soon as possible what caused the building to partially collapse, to provide answers and prevent such a tragedy happening again."
Keep up to date with all the latest from the Didcot power station protest by following @HeartThamesNews on Twitter.