Virtual Reality Will Help Treat Phobias
26 April 2019, 05:55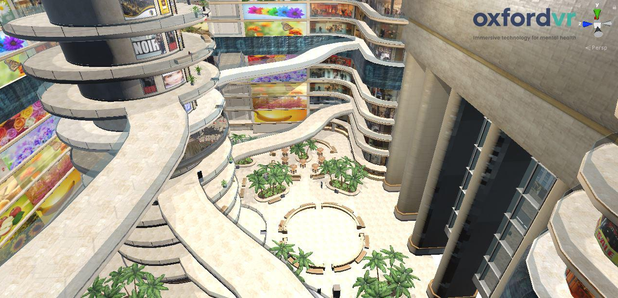 People with a fear of heights are to be offered a ground-breaking NHS psychological treatment using virtual reality (VR) in Oxfordshire .
NHS talking therapy services Healthy Minds in Buckinghamshire and TalkingSpace Plus in Oxfordshire are among the first in the country to offer state-of-the-art virtual reality therapy to treat the phobia.
Fear of heights is a significant problem for one in five people at some point in their lives, and most never receive treatment.
Now TalkingSpace Plus and Healthy Minds, which offer treatment for people experiencing low mood, anxiety and stress, are to offer VR to people with a fear of heights as part of an NHS pilot.
In the VR-enabled treatment programme, patients are gradually and systematically exposed to powerful virtual reality scenarios that trigger their symptoms. Because these situations do not have any of the perceived real-life dangers, patients have the confidence to try things they would normally avoid, enabling them to overcome their fears and negative thoughts. In fact, users report finding therapy easy to engage with and even fun to use. One of the most innovative features of this treatment is the virtual therapist. A friendly computer-generated avatar, voiced by a real person, who carefully guides the patient through the therapeutic work, helping them practise techniques to overcome their difficulties.
Although VR has been used in the past for phobias, it has always required a therapist to guide the user through the treatment. An NHS therapist will be available in the room during treatment sessions with Healthy Minds and TalkingSpace Plus.
People who received the therapy spent an average of two hours in VR over five treatment sessions. All participants in the VR group showed a reduction in fear of heights, with the average reduction being 68 per cent. Half of the participants in the VR group had a reduction in fear of heights by over three quarters.
These results are better than those expected with the best psychological intervention delivered face to face with a therapist.
Retired paramedic Richard was able to look over the balconies of Oxford's Westgate Shopping Centre after completing VR therapy, something he would never have been able to do before.
He said: "I lived with a debilitating fear of heights for all of my life and had to organise my life so that I completely avoided all situations that exposed me to heights and altitude as I would experience intolerable anxiety. Since have the VR-enabled therapy I can now go to my local shopping centre and I am able to freely walk around and go to all floors and even look out over the balcony. This is something that would been simply impossible for me to do before having this treatment."