Peterborough: 12 Forces To Police Protests
26 March 2014, 15:23 | Updated: 26 March 2014, 15:33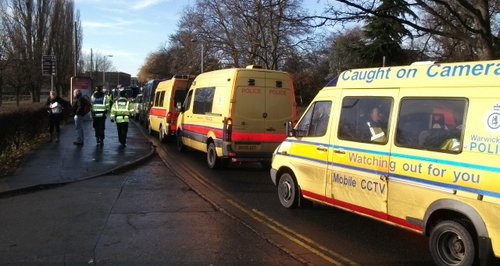 Offices from 12 forces will be on patrol in Peterborough on Saturday, for two protests in the city.
The English Defence League (EDL) are protesting, and there is also a counter-protest by the Peterborough Trades Union Council.
Cambridgeshire Police say there will be specialist public order officers, dog units, horses and a helicopter deployed.
Officers from 11 other forces will support colleagues from Cambridgeshire.
The assisting forces sending officers include Bedfordshire, Hertfordshire, Essex, Norfolk, Suffolk, British Transport Police, Nottinghamshire, City of London, Leicestershire, Lincolnshire and Derbyshire.
A number of community representatives, including youth workers and faith leaders, will act as key contacts on the day to ensure people are kept informed of the policing operation.
Peterborough District Commander Supt Tony Ixer said: "The operation on Saturday will be about facilitating people's right to peaceful protest, while maintaining minimal disruption for the people of Peterborough.
Our operation is supported by colleagues from 11 forces as well as specialist units.
This will enable us to have sufficient resources to police the protests, as well as carrying out patrols in the city centre and key locations.
Additional officers will be working in Peterborough and the rest of the county to deal with business as usual for the force.
There will be extensive fixed and mobile CCTV in operation throughout the city centre and we will take firm action and prosecute anyone who uses the right to protest as an excuse to break the law.
We have thorough measures in place to ensure any unlawful behaviour is recorded and dealt with swiftly.
This city and its people have a long and well-earned reputation for welcoming visitors.
All we ask is that anybody visiting Peterborough on Saturday leaves our city exactly as they found it; a safe, comfortable and happy place, where we and our families like to live, work and play.
If anybody comes here with different ideas our officers will rapidly respond and change their minds for them."
Protest Routes
The EDL march will start at around 2pm in London Road and proceed over Town Bridge, past Bridge Street Police Station and then congregate on Lower Bridge Street at Peterborough Magistrates' Court.
Temporary road closures will be applied for on London Road and Town Bridge while the protest takes place.
The Peterborough TUC march will start about 12.30pm at Bishops Road car park and proceed along Rivergate, and congregate at the Key Theatre car park.
Temporary road closures will be applied for on Rivergate, Bishops Road and some immediate surrounding streets while the protest takes place.
A multi-agency community group, involving police and the city council, has been set up to ensure the community are kept updated on information about the process and deal with any community concerns.
A spokesperson for Peterborough City Council said: "These road closures will be lifted as quickly as possible to reduce disruption.
We will keep motorists informed on the day using Twitter and the local media."
Car Park Closures
Peterborough's Riverside and Bishop's Road car parks will be closed from around 5pm on Friday.
They will be reopened once the demonstrations have concluded.
Pleasure Fair Meadow car park will also be closed because of the fair.
The City Council is advising people to use other car parks.
The Peterborough City Council call centre will be open between 9am and 5pm on Saturday for any issues relating to the demonstrations.
People with issues about the demonstrations can call 01733 747474.