Cambridge: Jonnie Peacock Tries Boccia
29 August 2013, 14:35 | Updated: 30 August 2013, 05:52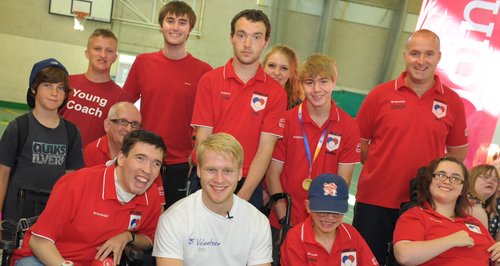 It's a year on from the Paralympic games and gold medal winner Jonnie Peacock is getting more people involved with sport in Cambridge.
Jonnie, who is from Doddington and finished first in the men's 100 metre sprint, been trying out Boccia, a game which is a bit like bowls, with volunteers and players at Impington Sports Centre.
It's to help the charity 'Join in' with its summer-long drive to encourage people to volunteer in their local communities.
Since the Games last year, more and more people want to be active.
Seven in ten sport clubs still need more volunteers to help with local sports.
Jonnie said: "Coming to this event in Cambridge means a lot to me as I was born here and I know that a huge part of winning Gold at last year?s Paralympic Games was down to volunteers, like Shaun McCormick who set up Camboccia so that his son who has cerebral palsy could get involved with sport.
I was lucky to have a strong support network around me that helped me achieve my goals last summer.
I hope that today's event inspires more volunteers to get involved so that we can see the successes of Team GB repeated and improved on at Rio 2016 and beyond."
Camboccia was set up by Shaun McCormick, who wanted his 12-year-son, who is a quadriplegic and suffers from cerebral palsy, to have the opportunity to take part in sport.
He found that Boccia was the answer but there were no clubs in Cambridgeshire, so he set up Camboccia.
He still runs the club with help of volunteers, but they are always looking for more support. He said: "Last year?s Paralympic Games in London were a great inspiration for people with disability to take up sport and it's vital that we ensure a lasting legacy for years to come.
I hope that today will encourage more disabled people to get involved in sport, and also inspire members of the public to give up some of their time to help keep clubs like ours open.
I want to thank Join In and all of the volunteers who have helped organise this event."
Other events taking place in Cambridge this summer include:
31st August - Cambridge Parkrun at Milton Country Park.
3rd September - Back to Netball at Queen Edith Community.
7th September - Wimpole Estate Parkrun at Wimpole Estate.
7th September - Change 4 Life Open Day at Cherry Hinton Village.
Click here to visit the Join In website for more information.