Fire At March Recycling Plant
4 June 2014, 05:36 | Updated: 4 June 2014, 05:43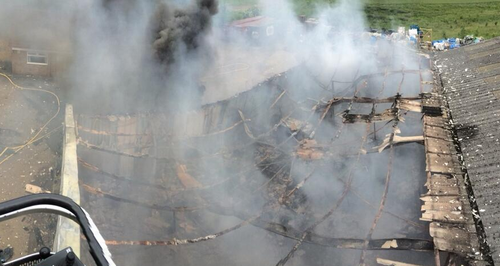 A recycling centre in the Fenland town of March has been badly damaged in a large fire.
Ten fire crews, from Dogsthorpe, Stanground, Yaxley, Whittlesey, Thorney, Wisbech, March, Chatteris, Huntingdon and Outwell in Norfolk were called to Creek Road at around 5:30pm yesterday.
People living nearby were initially told to keep doors and windows closed due to smoke from the scene.
Crews arrived to discover a fire in a warehouse, which was close to two other buildings.
They worked for around four hours to extinguish the flames, eventually leaving the site around 9:30pm.
The recycling plant was empty and nobody was injured.
An investigation into the cause of the fire is now underway.
Group Commander Sean Brown, the officer in charge of the incident, said: "The crews arrived to find a fire in a factory unit containing recycling material. The premises was closed for the night so no staff needed evacuating.

More resource was quickly requested to stop the fire spreading to other nearby units.
The crews did a fantastic job by acting quickly and decisively to ensure the fire didn't spread.

This is a timely reminder or factory and business owners to ensure their fire risk assessments are up to date and reviewed regularly.
Our Fire Protection team holds regular seminars for businesses to provide information about fire safety in the workplace."
Picture: Cambridgeshire Fire & Rescue Service.