Peterborough: Masked Man Raids McDonalds
17 March 2014, 14:12 | Updated: 18 March 2014, 10:40
Police in Peterborough are hunting for a man who has raided a McDonald's in the city.
Jon Benson, who popped into the McDonalds this morning was in the restaurant when the raid took place. Speaking to Heart this lunchtime Jon said: "I went into the loos, but I was a couple of minutes longer than normal because it's my birthday today and I was answering a few birthday texts and messages.
When I came out it was empty, no-one behind the counter or any customers inside, but as I started to leave I saw lots of armed police in the car-park and an Ambulance outside.
As I began to drive out, I spoke to one of the staff who was obviously shaken and upset by what had happened. I asked her what went on and she told me 'a man had come in with a shotgun and turned the place over'. She said she just wanted to go home."
It's certainly a birthday I won't forget.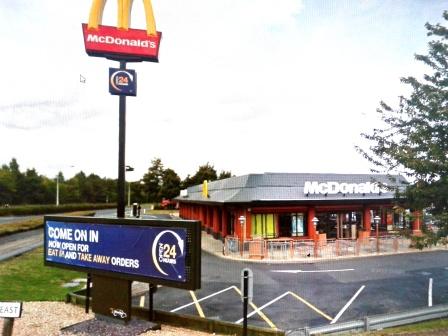 A Cambridgeshire police spokesperson told Heart: "We were called to reports of a robbery at McDonald's in Padholme Road, at just before 10.45am today (Monday).
A man wearing a balaclava and high visibility yellow jacket threatened staff and demanded money.
He made off with cash, no-one was injured.
We're searching the area, checking CCTV and speaking to witnesses"
(Image: GoogleStreetview)