Peterborough: Hospital Post Strike Impact
8 July 2013, 12:51 | Updated: 8 July 2013, 13:25
Staff at Peterborough City Hospital are trying to make sure they stay in touch with patients, while a postal strike takes place.
Post deliveries are being delayed in Peterborough, as members of the Communications Workers Union continue to strike at the delivery office in Werrington.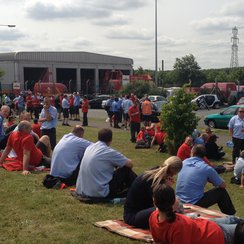 To make sure people who use Peterborough City Hospital aren't affected by the strike, they're making sure they have up-to-date telephone numbers for patients.

Earlier this year the Trust launched its appointment reminder service, which allows patients to tell the hospital if they no longer need an appointment, want to rearrange an appointment, or just to provide a gentle reminder to the patient that they are due to attend a particular clinic.

Neil Ritchie, the Outpatients Service Manager at Peterborough and Stamford Hospitals NHS Foundation Trust, said: "Whilst the patient reminder system should negate any disruption to postal services, it can only work if patients have provided up-to-date contact details. Mobile phone numbers are particularly useful as text messages are a quick and cost-effective method of providing information.

Neil added "It is important that all patient details are accurate and if they do change address, phone numbers or GPs they advise us of this at their next visit so we can update their records".
Royal Mail say post to the PE1, PE2, PE3, PE4, PE5, and PE6 postcode areas is being affected.

They have apologised and "We are doing all we can to minimise this disruption.

"Royal Mail is fully committed to the process of trying to resolve concerns of postal workers based in Peterborough by continuing to follow the national jointly agreed framework with the Communication Workers Union (CWU)."