Wisbech: £250,000 Worth Of Cannabis Found
25 June 2013, 08:36 | Updated: 25 June 2013, 08:42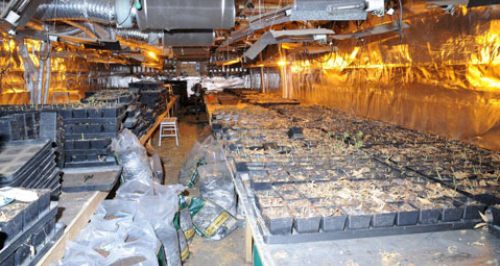 Cannabis plants which Police believe are worth £250,000 have been found during a raid in Wisbech.
3,500 plants were found at a property on Sparrowgate Road on Sunday (23 June).
The property was raided after local patrol officers noticed a strange smell in the air nearby.
Once inside, officers found Cannabis plants, generators and drug growing equipment.
The Cannabis farm was discovered in outbuildings around the property with evidence also being seized from the house
Police are yet to make any arrests in connection with the discovery, but say 'enquiries are ongoing.'
Sergeant Andy Crown from Norfolk Police said: "The quantity of drugs seized reflects the strength of the very distinctive smell noticed by officers on patrol in the area.
Inside the address we found a sophisticated cannabis production set-up clearly destined for the streets.
We urge anyone with information about drug activity within their community to contact police on 101.
People can be reassured we will act on information passed to us."