This 105 Year Old Daredevil Just Became The Oldest Person To Ride A Rollercoaster
6 April 2017, 17:31 | Updated: 7 April 2017, 09:15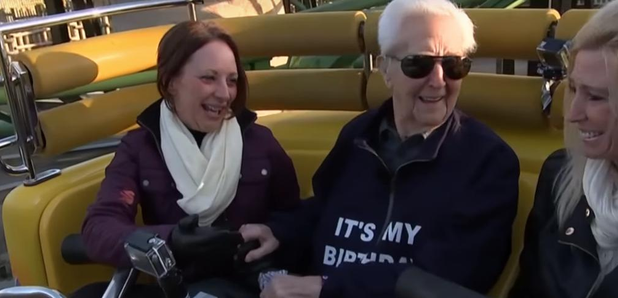 Record breaking Jack Reynolds took a spin on the Twistosaurus at North Yorkshire's Flamingo Land.
Elderly people are often treated like second-class citizens, but one old chap is proving that you can bring smiles to people's faces even as you enter your second century.
This is the news of 105-year-old Yorkshireman Jack Reynolds, who has rung in his milestone birthday by breaking a world record. Yes, Jack is now the oldest person to ride a rollercoaster, having taken on the might of the Twistosaurus in Flamingo Land in North Yorkshire.
The brave centenarian's big day out was captured on Good Morning Britain, as he donned shades and a trendy sweater emblazoned with the words: "IT'S MY BIRTHDAY AND I'M 105 TODAY". He seemed unperturbed by the speeding, spinning vehicle of fear that is the Twistosaurus, appearing calm and indeed collected as it delivered him snugly to the end of the track. He wasn't even out of breath, blowing out all of his candles in one go.
Yet beneath Jack's calm demeanour was a man fearful the of task he had taken on. Asked how felt before beginning his perilous journey, he revealed: "I'm frightened to death."
He organised the stunt in aid of in aid of Derbyshire, Leicestershire & Rutland Air Ambulance. At the time of writing, he's smashed his £150 target by raising £380.
Happy 105th Birthday Jack Reynolds - congratulations on becoming the oldest person to ride a rollercoaster! @GWR https://t.co/qK8Y94i5Pj pic.twitter.com/2yMjugQKb9

— ITV News Tyne Tees (@itvtynetees) April 6, 2017
On his JustGiving page – which you can still donate to – he wrote: "On the 6th of April 2017 I will turn 105 years old so I've decided instead of sitting back to read my second letter from the queen I'd rather raise a little more money for a well deserved charity and also see if I can gain my second Guinness World Record by attempting to be the oldest person to ride a roller coaster."
It's not the first time the great-grandfather has faced his fears. Last year he celebrated his 104th birthday by getting his first tattoo, becoming – you guessed it – the oldest person to do so. He had his nickname – Jacko – and date of birth – 6/9/1912 – tattooed on his arm, even though he doesn't care for tattoos. Asked if hurt, he remarked: "No, it were nothing."
This picture tells another story, Jack...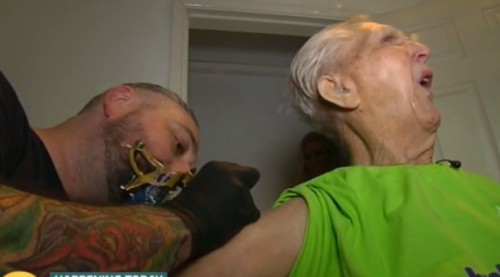 The daredevil's trip to the tattoo parlour raised cash for the Motor Neurone Disease Association and gained almost as much attention as this one. It seems Jack is something a media darling!
Whatever next? Perhaps he'll ring in 106 by skydiving out of a plane, or commandeer a jet ski as he turns 107. You're an inspiration, Jack, good on you!