Is This A Bear Or A Dog?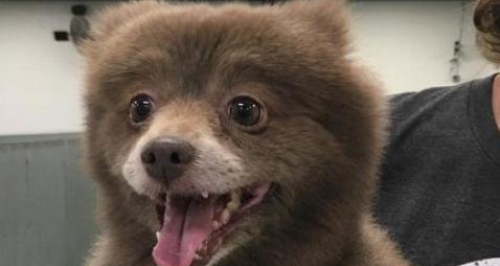 The internet are divided once again over whether this is a dog or a bear... Either way this animal is really cute!
It was the question that divided the internet last year as people were confronted with a magical colour changing dress that seemed to be blue and black to some and white and gold to others. But social media users are once again divided by this picture of an adorable animal that looks like an adorable bear but also resembles an adorable dog – and it's all too adorable (and confusing) for words.
Right! What is it? The tongue and happy face says: "dog" but the fur and ears says "bear". God help us! It's definitely the 'dress' situation all over again…
What do you think it is? A Dog? Or a bear?
View post on imgur.com
Right, enough debating ! The adorable animal is named Bounce and it is indeed a dog. Bounce is actually a Pomeranian mix owned by Elizabeth Maguyon, a 19-year-old student at the Georgia Institute of Technology.
Talking to ABC News, Maguyon said that she and her family were on holiday in Tennessee when they checked Bounce into doggie daycare.
"We hate leaving her at home and try not to board her as much as possible, so we decided to take her on the road trip with us and then board her there if the hotel wouldn't allow pets," she said.
"Every single person who walked by her stopped, took photos of her and commented about how cute she was, saying things like, 'Is that dog a bear?!'
"Since she was getting so much attention, I actually made a joke on the trip that Bounce would become famous without us even knowing because of all the pictures people were taking of her, and little did we know she actually did!"
"My mum thinks she looks like Paddington, and she also loves to sleep," she said. "She could sleep all day long. She doesn't ever bark either. She naps all day and in that way, I guess she's like a little bear who sleeps lots in winter. We joke all the time she's not even like a real dog."
Bear with us while we stare at the picture of the dog again…