Bridezilla spends £70k marrying the same man FIVE times
19 September 2018, 12:43 | Updated: 23 October 2018, 13:20
Demanding bride fell out with friends over her extravagant celebrations which spread over TWO countries.
One wedding is enough for most people, the expense, the planning, the stress and the one big moment to never forget.
But once wasn't enough for Sandra Igwe, a self-confessed bridezilla who insisted on FIVE different events to celebrate her marriage.
They included a £2,500+ trip to her father's village in Nigeria, an expensive Lagos hotel, a registry office in Coventry and another expensive hotel in London.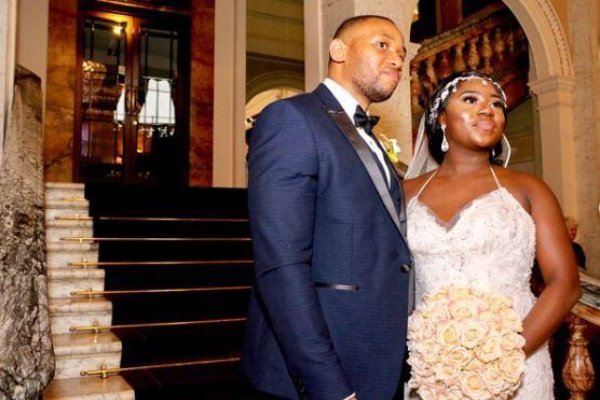 Sandra organised FIVE events to celebrate her marriage
Sandra's demands led to her falling out with friends and her own videographer, too.
The five weddings cost over £70,000, including 13 dresses she explained to This Morning hosts Phillip Schofield and Holly Willoughby.
Speaking to the presenters, Sandra said: "From a young age, us girls plan the biggest day of our lives and when the time came I wanted to have the perfect wedding.
"I thought actually, I want it here but I also want it there and I want it there, so I thought why can't I have all of it?"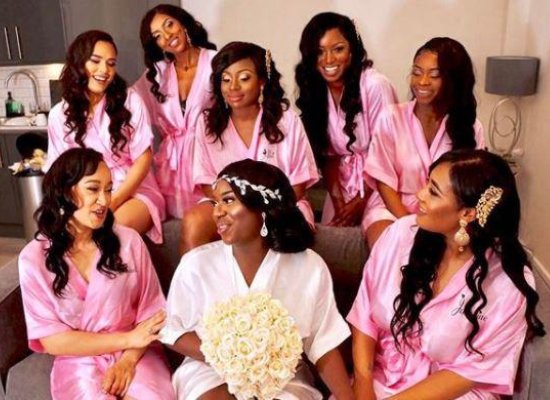 The self-confessed Bridezilla also fell out with several friends over the extravagant celebrations
Speaking about the large sum her friends had to stump up in order to get to her village in Nigeria, she said: "I wanted my best friends there, I wanted my family there, I wanted everyone there to celebrate an amazing day of my life and I wanted them to come to the village.
"I wanted them to be involved, and yes obviously money was a factor."
The trip was so expensive that one of her husband's friends had to take out a loan, which he is still paying back.
And that's not all. On top of the lavish celebrations, she also micro-managed every aspect of the wedding events so they were up to her standards.
This included putting so much pressure on her videographer that they fell out, making sure the dance floor was cleared for her and her husband to be the centre of attention and banning those who hadn't adhered to the dress code from photos.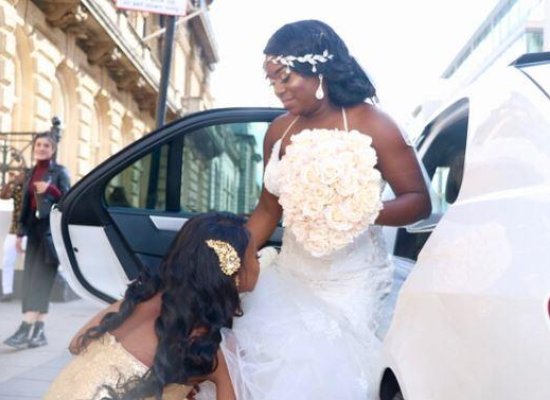 Sandra threw events in Nigeria, Coventry and London wearing 13 different wedding dresses
She said: "Some people didn't stick to the colour theme so I was like you have to stay back.
"I was a bit irritated because your wedding pictures you want to look back and it has to be perfect. Anybody that kind of disrupts that perfect day should be booted."
At the final event in London she had 13 bridesmaids, made guests learn a special dance which was then cancelled because she was FOUR hours late and she made her sister wear heels all day and night despite pleas from her sibling not to have to wear them.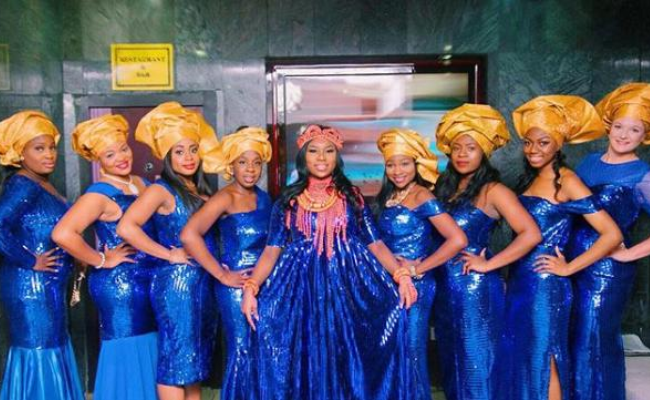 At one of her events Sandra banned people from photos if they weren't wearing the right colours
Sandra said: "She wanted to wear flats. I wanted everyone to wear the same colour heels, the same style and I think if one heel looks out of place it's going to ruin the look so I begged my beautiful sister to please wear heels.
"She said 'Sandra my feet are going to hurt me' but you know one day just go through with the pain for just a little bit longer."
At the end of the interview she was asked if it the expense and arguments were all worth it, to which she replied: "It was. Honestly everything that I've ever imagined. Disagreements on the day, [I had] too many. But afterwards we hashed things out."
Her husband was not present during the interview.