This Mum Is SLAYING Celebs With Her Hilarious Instagram Posts
3 April 2017, 17:29 | Updated: 3 April 2017, 17:46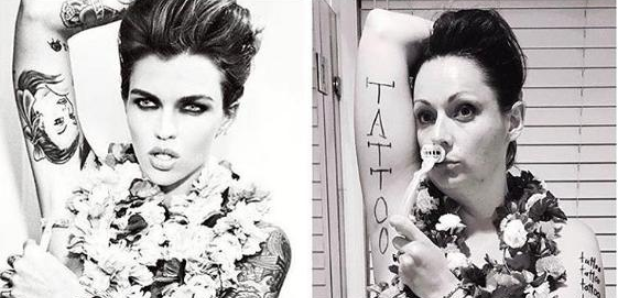 Celeste Barber is poking fun at celebs with her Instagram posts – and fans are loving it!
This mum is poking fun at celebrity culture in hilarious fashion, recreating snaps featuring the rich and famous with her own unique twist.
Her name is Celeste Barber and she is an Australian comedian who's certainly tickled our funny bones!
Whether original photos are suspiciously staged Instagram posts, airbrushed magazine shoots or ludicrously unrealistic adverts – they all come into Celeste's sights for an hilarious lampoon. And her fans are loving it!
Because Celeste has drummed up quite the fanbase with her posts, boasting and impressive 1.6 million Instagram followers. One summed up the general reaction in a comment under a recent post: "your mind is amazing the stuff you come up with is hilarious!!!!
Another wrote on a separate post: "love your work, you make my world brighter!" And these fans aren't the only ones who are loving what Celeste is doing – these are some of our favourites so far.
That time she kept up with the Kardashians
That time she made us crave as stuffed crust pizza
That time she proved what an Earth mother she is
That time she pon de replay
That time she ALMOST matched her underwear (so close!)
That time she poked the #Beyhive
Celeste recently had a big old laugh at Selena Gomez's expense, and has preciously shared the motivation behind her hilarious posts.
She told The Huffington Post: "My sister and I would send stupid stuff to each other, like yoga instructors going 'you should do this everyday' and we would joke 'yeah okay, challenge accepted!', and from there I thought it would be funny to post them on Instagram."
Celeste added: "Being an actor and a comedian it kind of came naturally, though now it has turned into something else… It's gone nuts!"
Keep up the good work, Celeste! We can't wait to see what you come up with next.