5 Celebrities' Pets With More Popular Social Media Accounts Than You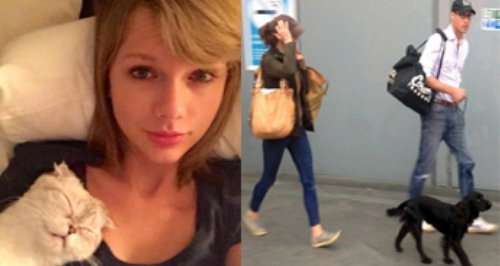 Prepare to have your personal Twitter and Instagram accounts put to shame, by these famous pets and their many followers...
1. The Beckham's Cocker Spaniel Olive:
You'll have to work hard on your own Social Media account if you want to keep up with the most recent addition to the ever expanding Beckham clan. Olive the Spaniel already has a whopping 76k followers, which she's amassed through a collection of cute videos and pictures on Instagram.
2. Okay, admittedly Taylor's prize kitty only has an unverified account in her name, but she does make frequent star appearances on Tay Tay's own profile.
I woke up like thissssssss (With a cat on me) pic.twitter.com/f7P4Fsikwx

— Taylor Swift (@taylorswift13) March 5, 2015
3. We're howling at this HILARIOUS spoof Twitter account for the Duke and Duchess of Cambridge's adorable dog Lupo:
Great to get out without George spoiling it all pic.twitter.com/hFA5lZW69U

— HRH_Lupo (@HRH_Lupo) August 31, 2014
The brilliant Bio even reads: 'Prince among royal pooches. Pet of Duke & Duchess of Cambridge. Prince George's furry big brother. Likes sausages.' The Spaniel has 4, 625 loving followers on Twitter.
4. And Grumpy Cat's fabulous Instagram account sums up how we feel every Monday:
Grumpy Cat (Fun Fact: Real name - Tardar Sauce) shot to world web fame with her distinctive unhappy-looking features. Her Twitter account as gathered an impressive 313, 147 followers to date, as well as running a hugely popular Instagram account.
5. Carrie Fisher's canine pal Gary
The real life Princess Leia's pooch may not have the legions of followers that some of these other famous animals have… but his fabulous selfies aren't to be sneered at. Check out his Star Wars picture...
Meanwhile Louis Hamilton's pampered pooch Roscoe may not have his own Social Media account, but he sure rules his owner's!
My best buddy Roscoe and I, in the new @manoftheworld magazine! pic.twitter.com/6VONZwzyy2

— Lewis Hamilton (@LewisHamilton) March 19, 2015
Between you and us, we think it's rather amazing!