Penguin Becomes BFFs With The Man Who Saved His Life
Prepare for a story to melt your heart... this is what true friendship looks like.
When Señor Joao discovered an unlucky penguin that had been covered in oil from a spillage, he didn't think twice about rescuing the poor bird.
Back in 2011, local Brazilian Joao Pereira de Souza came across the poor, struggling creature on the beach outside his house.
After cleaning him up, the retired bricklayer fed him a delicious meal of sardines and laid him to rest in the shade.
The 71-year-old thought that would be the end of the matter... but it wasn't to be.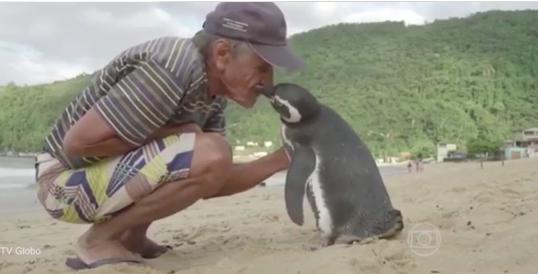 When his new buddy had fully recovered de Souza attempted to release him back into his natural habitat, thinking he would swim away in no time.
"He stayed with me for 11 months" remember Joao "and then, just after he changed his coat with new feathers, he disappeared".
Now the grateful monochrome fellow splits his time with his saviour's back porch and the ocean where he belongs.
It seems the pair are flipper friends for life as nothing can break their bond.
Now where do we find a pet penguin?