Say 'GOLD MEDALS!' Our Olympic Heroes Return Home To Adoring Fans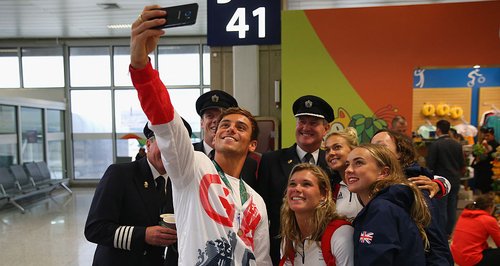 As our medal-winnign superstars land back on British soil, family and fans are waiting at the airport for the British Airways flight to touch down and our winners emerge...
To help celebrate we take a look at exactly what's been going down on the flight back!
Expect bubbles, smiles and selfies GALORE!
THEY'RE BACK!
Great fun! #greattobeBAck #medalselfie pic.twitter.com/VheE3IfE7g

— Alex Gregory (@AlexGregoryGB) August 23, 2016
Heathrow touch down!
What a reception! We're home..... Bringing home the great @TeamGB #selfieonthesteps pic.twitter.com/p9GtcsLgGd

— Joe Clarke (@joeclarkek1) August 23, 2016
Joe Joyce of Great Britain takes a selfie with British Airways Captain Steve Hawkins.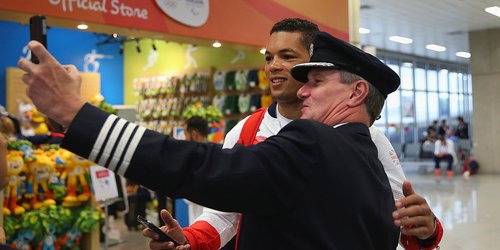 Everyone say "Cheeeeeese!"
Our #GBR heroes are returning aboard #VictoRIOus! Thanks to @British_Airways for flying the team home in style... pic.twitter.com/1xNhwxoq1v

— Team GB (@TeamGB) August 23, 2016
And the smiles keep coming...
Post-Games bucket list #1 Enjoy a glass of champagne on the flight home - with medalist @sconway70 #greattobeBAck pic.twitter.com/vVkjGrrE7F

— Bryony Page (@BryonyPage1) August 22, 2016
Meanwhile Adam Peaty and the GB Team were busy taking selfies at the Olympic Closing Ceremony in Rio. Well, who wouldn't want to commemorate that moment?!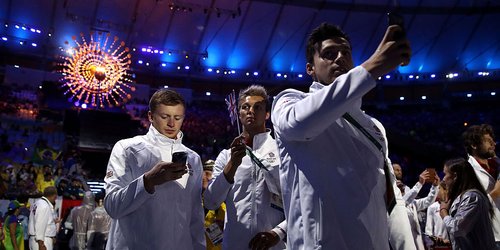 Hockey player Sophie Bray and her team mates pose with the pilot in the cockpit.
On board the @british_airways VictoRIOus, going to be a very special flight home #greattobeBAck #teamgb #oneteam pic.twitter.com/T0A4rNM601

— Sophie Bray (@sophiebray19) August 22, 2016
Pete Reed, Helen Glover, Max Whitlock, Nicola Adams and Katie Archibald of Great Britain pose with their amazing medals!

Meanwhile her fellow hockey player Lily Owsley does the honours by taking a selfie of her team.
get your medals out.. champers and the national anthem blasted out... we're going back to our fave nation!! pic.twitter.com/O98joZyu36

— Lily Owsley (@LilyOwsley) August 22, 2016
Hockey girls are homeward bound! Thank you @British_Airways Thank you & ciao Rio. @_GBHockey #greattobeBAck pic.twitter.com/Hk99clEXOH

— K Richardson-Walsh (@katewalsh11) August 22, 2016
Team photo!
Happy & gloRIOus and most definitely #victoRIOus. Welcome home @TeamGB! #greattobeBAck #GBR https://t.co/iy6anYBtLe pic.twitter.com/VBLqxd1pwd

— British Airways (@British_Airways) August 23, 2016