Squirty Tea Is A THING Now And We Can't Cope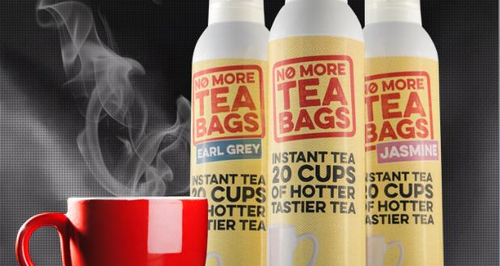 R.I.P traditional tea, there's a new sheriff in town...But the real question is, does it taste good?
Just when you thought you'd sussed out how to make the perfect brew, someone comes along and creates this contraption!
Introducing...Tea in a can! (no, we're not joking).
The tea-volution is here, and according to YumCha Drinks it's tastier too.
Ever heard of making a cup of tea without teabags?! Then you haven't tried 'No More Tea Bags' #nomoreteabags #cuppa pic.twitter.com/YuNduvE3IG

— YumChaDrinks (@YumChaDrinks) September 5, 2016
No More Tea Bags are a range of flavoured high-quality liquid tea in aerosol mousse style cans which claim to eliminate the 'dreaded' problem of a soggy tea bag (however do we sleep at night) and extended brewing time.
To make your revolutionised cuppa, tea drinkers have to squirt the foam into a mug, add hot water (milk and sugar is optional) and WALAH! here you have it, the 'Perfect Cup Of Tea'. The canned brew still remains traditional in one area though: Flavours! No More Tea Bags offers tea lovers a good Jasmine, Earl Grey and Classic tea.
'So which clever hot-shot came up with this idea?' we hear you ask.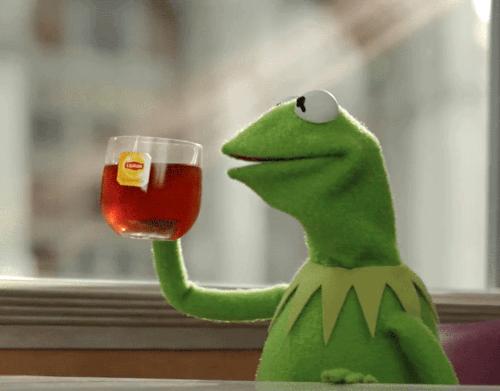 Product inventor, Guy Woodall is the answer, and according to YumCha Drinks website the best ideas come over a good hot brew and this one was no different.
"We brew proper leaf tea for the perfect amount of time so you don't have to, and it's never underbrewed or stewed.
"All you do is add hot water. You can easily control the strength, it only takes two ticks and it's delicious. All this without a tea bag in sight!"
The genius behind the canned hot beverages, Guy Woodall also added, 'The convenience of not having to sit around and wait for your tea to brew is a major selling point, but the technology we've used enables us to produce a tea that we believe is a far superior taste to an ordinary tea bag,'
Sound interesting? The Tea loving community on Twitter seem to think otherwise calling the creation 'Absolute evil'!
Absolute evil, this is not a brew #teaheresy https://t.co/651ceW9OYj

— John Brexiteer (@John_Veritas) September 8, 2016
"No more tea bags" is the sort of careless language that starts wars in this country.

— Vonny Moyes (@vonny_bravo) September 8, 2016
What fresh hell is this? pic.twitter.com/frnx5BEkTy

— Paul Hardcastle (@hardcastIe) September 8, 2016
Just when I thought 2016 couldn't get any worse I learn that instant tea is a thing

— Marianna (@LadyMacBeauty) September 7, 2016
Aerosol tea. 2016's ability to keep on stooping lower than you thought possible is astonishing.

— Ben Parfitt (@BenParfitt) September 8, 2016
Spray can tea?? Going to have to have a proper cup of tea to make up for even having seen this tbh. https://t.co/02LOcdbMTR

— Shakti (@Shakteh) September 8, 2016
Put the kettle on for all of us, guys.