People are scratching their heads over this picture of an 'invisible' car
14 September 2018, 13:05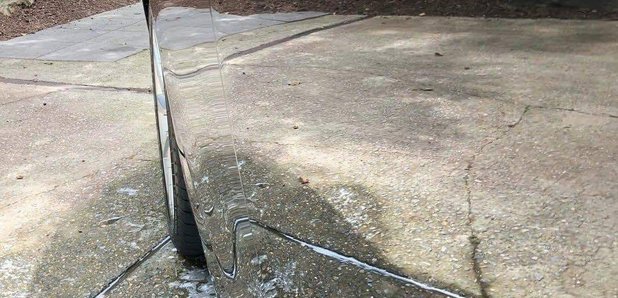 The owner did such a good job of polishing his motor's paintwork that it reflected everything around it, making it hard to spot.
There is a CAR in this picture... but can you see it?
Initially you could be forgiven for thinking the image simply depicts an average backyard with concrete floor and typical foliage.
But on closer inspection a wheel and the outline of the car door are clearly visible.
What's actually in the image is a pristine black car which is so clean that it's mirroring its surroundings.

Reddit users speculate over the authenticity of the image
The photo confused users of web platform Reddit, where it was posted.
One person happily admitted that it took them more than two minutes to find the car.
While another heaped praise on the car owner for the high level of cleaning that led to the vehicle being so vividly reflective.
Perhaps unsurprisingly, several people mentioned the famous eighties action movie, Predator, where the alien is able to make itself invisible - its outline still visible to viewers of the famous Arnold Schwarzenegger flick, which has been rebooted for 2018 and was released in the US this week.
Other members of the forum claimed the image was fake and had been doctored by the original poster, citing a crack in the ground that can be seen in the reflection but not in the actual paving itself.