Teen Didn't Have A Prom Date - So He Took His Cat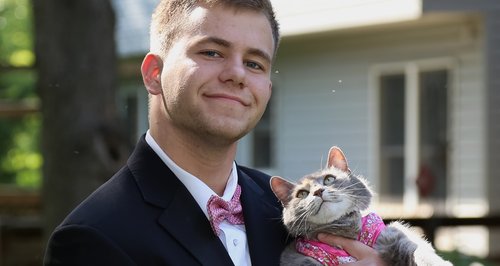 A picture of 18-year-old Sam Steingard with the family cat dressed for prom has gone down a storm online.
They say a dog is man's best friend, but cats have been muscling in on their territory. The internet's obsession with our feline friends is well known, but now it's going to the next level with a cat locking down a prom date.
Prom can be a big deal, especially in America, but Sam decided that he wasn't going to get into all the stress of it and instead wouldn't bother with getting a date.
Sam's mother had other ideas though and insisted if he wasn't going to get a date then he could take the family cat, Ruby. I don't know why she thought that was a sensible alternative, but let's run with it.
As we all know, you can't go to prom without looking your best, so Ruby got a very tasteful pink cat dress to wear, which Sam's mother captured in the beautiful picture you see above (we especially love Ruby's longing stare up at Sam.)
Gallery: The Most Spoilt Celebrity Pets
The picture was a family a joke for months until Sam's sister, Caroline, posted it online a few days ago. And predictably it has gone down a storm, racking up millions of views.
Of course though, this being the internet, it didn't end there. Photoshop fanatics flexed their fingers and went to work on the picture, concocting all sorts of bizarre variations.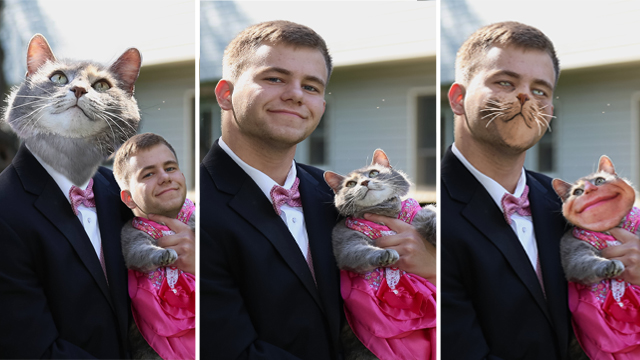 We should tell you though that Sam and Ruby didn't actually go to prom together, because, come on, it's a cat, what kind of havoc would that have caused? But at least they will always have this beautiful - and definitely not embarrassing - photo together.