New Way Of Contacting Police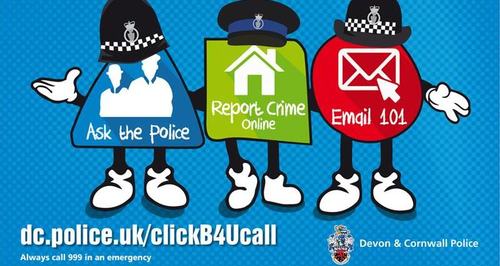 Devon and Cornwall Police are offering alternative contact methods rather than calling 101.
The summer months see a huge increase in visitor numbers and the police typically see a 35% increase in calls compared to the quietest times of the year.
With the same number of call handlers year round, this extra demand inevitably can have an impact on call waiting times.
People can now complete an online non-urgent crime report or use the 'contact an officer' facility, which will be dealt with in the same way as a call to 101, but can often be quicker and more convenient for busy people.
For other matters, an email to 101@dc.police.uk is a convenient alternative option to calling 101.
Many calls they receive are about fly tipping, stray dogs, noisy neighbours or illegally parked cars.
These are all in fact areas the local council deal with.
Around a quarter of calls to us are for information.
We would encourage people to click before they call and ask themselves whether they can find the answer on our website, searching for key words or by using the 'Ask the Police' facility, a useful resource that has answers to hundreds of commonly asked questions.
The public are being asked to contact the police online for non-urgent matters whenever practical.
A campaign running throughout the summer has been launched to raise awareness of the different ways the public can contact the police.