Nurdle Beach Hunt Tackles Plastic Pellet Problem
7 February 2017, 12:30 | Updated: 9 February 2017, 08:26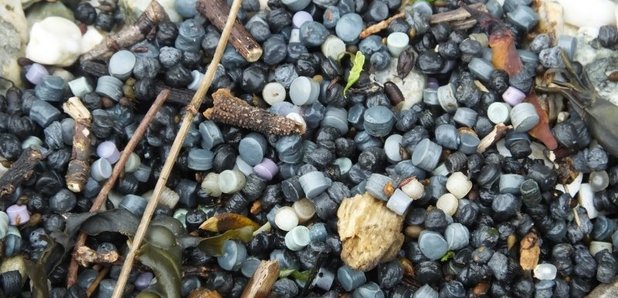 There are calls for companies using plastic pellets to take greater care to contain them
Tens of thousands of the small pellets - also nicknamed Mermaids Tears - are littering beaches along our coastline
They're so tiny that one eggcup can hold over 500 of them and they're used to make just about anything made from plastic, such as toy dolls and mobile phone covers
They can disperse over vast distances and are found on beaches worldwide, from the UK to the remotest Pacific islands.
Up and down the country people have been taking part in the biggest ever nurdle hunt, to raise awareness of the millions of plastic pellets washing up on our beaches with devastating consequences.
Surfers Against Sewage have also lead some of the hunts, collecting them on Towan beach on the Roseland at the weekend.
At the moment there is no UK regulation dictating how 'nurdles' should be managed...
It means spills here are not treated as pollution but will stay in our ocean for decades
A growing number of UK plastics companies are signing up to a voluntary industry scheme - 'Operation Clean Sweep' - under which they pledge to put in place simple and cost-effective measures, such as mesh covers to stop pellets being lost down drains. However, only a minority of firms have so far joined, approximately 53 out of several thousand plastic companies in the country.
Marine wildlife can often mistake them for food or tiny fish eggs and there's further concerns that toxic chemicals attach themselves to the nurdles; potentially affecting what we eat as they get into the food chain.
Heart's spoken to a senior plankton analyst from a science charity on Plymouth Hoe about the problem - Marianne Wooten works at SAHFOS - The Sir Alister Hardy Foundation for Ocean Science https://www.sahfos.ac.uk/
https://soundcloud.com/heartwestcountrynews/nurdle-interview