Plymouth: Dementia Scam WARNING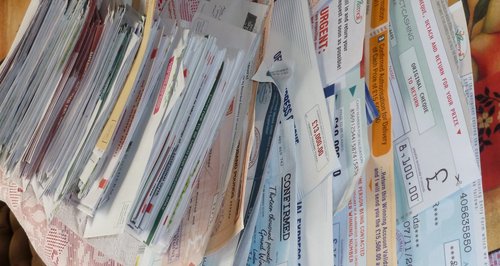 A Plymouth couple is urging others to keep an eye on elderly family members after their 84-year old brother fell prey to a series of scams.
The retired couple from Peverell were shocked when they visited their brother's home elsewhere in the city while he was in hospital and found hundreds of goods purchased in order to enter various prize draws as well as draw mailing invoices.
The elderly gentleman has dementia and has accumulated a horde of goods.
Examples include:
69 pedicure scissors
more than 50 false teeth holders and brushes - the gentleman did not have false teeth
96 bottles of collar stain remover
a large amount of bath sponges
100 bars of soap
153 tubes of shower gel
a large box of bottles of capsules
a large quantity of lip balm, batteries, torches, scouring pads, sewing kits, thermometers, nutcrackers a large number of knives.
Trading Standards officers are still working with the family to investigate the extent of the scams, but believe the tally could run into thousands of pounds.
As they have not yet got a court of protection order, it could be some time before the family knows how much their relative has spent.
Does the relative or friend talk more about competitions?
Are they going to the Post Office a lot?
If you have concerns contact Trading Standards on 01752 304147 or email trading.standards@plymouth.gov.uk
For more information visit www.thinkjessica.com