Pymouth: Possible Legal Action For Navel Base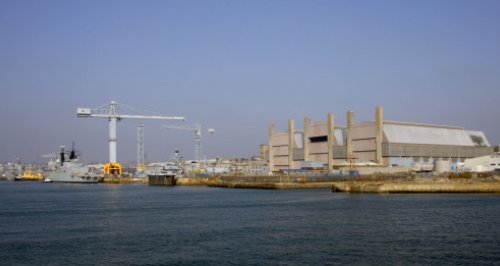 A naval base currently re-fitting Britain's nuclear submarines could face legal action over a series of safety breaches - including a worker receiving a dose of radiation.
The damning report from the Office of Nuclear Regulation has ordered urgent improvements at the Devonport Naval Base in Plymouth, Devon.
It found that radioactive cooling water had mistakenly discharged into a submarine.
Reporting of safety incidents was also described as "below standard." Contractor Babcock International has responded to the report describing safety as its "highest priority".
But the ONR has now issued a legal notice ordering it to improve by the end of January 2016 after highlighting the shortfalls at the yard.
The report revealed that six incidents broke safety rules between October and December last year. Also highlighted was torpedo tubes on a docked submarine being "configured in contravention of safety instructions aimed at keeping the boat watertight" and a nuclear evacuation alarm tested "at the wrong time.
The base was also criticised for allowing a forklift truck carrying oil "unauthorised access" to a dock and for delaying the safety maintenance of a dockside crane beyond the "maximum tolerance date."
The ONR also reported "shortfalls in the operation of the emergency monitoring vehicles" during a nuclear submarine accident exercise. Vanguard-class nuclear submarine HMS Vengeance is undergoing a refit at Devonport.
The ONR said the dose of radiation in the employee was "very small" but it "highlighted shortfalls" in health and safety at the yard.
Babcock said in a statement: "Improvements relating to the ONR enforcement notice and other recently reported incidents at Devonport Royal Dockyard are being addressed through a broader nuclear safety improvement programme to further enhance our current high levels of safety, in agreement with ONR."
Plymouth City Council said: "It is protocol that we are informed immediately of any safety issues or incidents that are likely to be of concern to the wider public.
"The operator also reports on its safety performance every six months at the local liaison committee."
The ONR declined to go into any more detail on the incidents, saying the reports were intended as summaries.
The Ministry of Defence has so far declined to comment.