RNLI Lifeguards Return To Devon's Beaches
29 April 2015, 16:09 | Updated: 29 April 2015, 16:13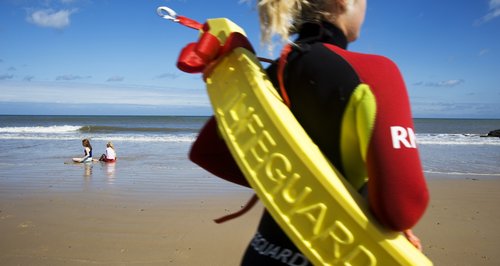 RNLI lifeguards are returning to Devon's beaches this weekend (Saturday 2 May) as patrols for the 2015 summer season get underway, and the RNLI is urging people heading to the coast to take heed of the charity's safety advice.
Patrols will begin on Bantham and Sedgewell Cove in the South Hams, and Croyde and Woolacombe in north Devon from Saturday.

Over the last few weeks lifeguard teams have been visiting local primary schools in north Devon, the South Hams and Torbay as part of the 'Meet the Lifeguards' programme, and estimate that they've spoken to over 9,000 school children about how to best stay safe on the beach.

Steve Instance, RNLI Senior Lifeguard Manager for the South West says:

"It's that time again when the RNLI lifeguards make a welcome return to beaches around the south west coastline. The lifeguard teams were on patrol on a number of beaches over the Easter and saw lots of people making the most of the warm, sunny weather and good surf conditions.
We're hopeful for more sunshine this Bank Holiday, but whatever the weather throws at us, we can expect the beaches to be busy as visitors and locals enjoy their holidays. If you are planning on getting in the water, it's worth remembering that even though the weather has been warm, the sea temperature is still very cold so it's important people wear a suitable wetsuit and bring warm clothes to change into.
We'd urge beachgoers to head to an RNLI lifeguarded beach and to swim and bodyboard in the supervised area marked out by the red and yellow flags. Try and stay within your depth and follow the lifeguard's advice. If you get into trouble, stick your hand in the air and shout for help. If you see someone else in trouble, tell a lifeguard, or if you can't see a lifeguard, call 999 or 112 and ask for the Coastguard.

It's also important to check the tide times, which are available through local media, at the local lifeboat stations, harbour offices and at the entrance to all RNLI lifeguarded beaches or by searching your nearest beach online. Always take a means of calling for help in case you should get caught out."

The RNLI beach finder app makes it easy for anyone heading to the beach this summer to find their nearest lifeguarded beach. It also provides important information including water quality, lifeguard patrol dates and times and hazard information. To download free of charge on Android and Apple devices visit RNLI.org/beach.

You can also find your nearest lifeguarded beach by visiting www.rnli.org