How to donate to Heart's charity Global's Make Some Noise
5 October 2018, 17:56 | Updated: 5 October 2018, 18:59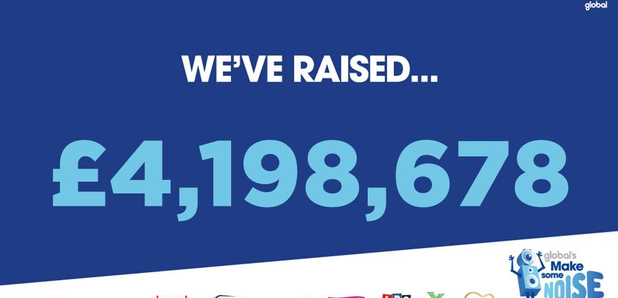 Heart will be getting LOUD on Friday 5th October and we need your help to raise as much money as possible for our charity, Global's Make Some Noise.
On Make Some Noise Day we'll be giving away some fantastic prizes, so make sure you tune in to join the noise on Friday 5th October. We're raising money for Global's Make Some Noise so that they can keep changing young lives across the UK.
Thanks to your support, Make Some Noise funds projects up and down the country, that are changing the lives of children and young people living with illness, disability or lack of opportunity.
Every donation makes a difference. Giving just £5 could pay for a sensory toy that can help a child with autism when they feel worried or anxious.
A donation of £10 means a child with complex disabilities can receive a specialist therapy session, helping them build strength and movement, and grow their independence.
To donate £10 text HEART10 to 70766
To donate £20 text HEART20 to 70766
100% of your donation will go to Global's Make Some Noise. 16 and over only. Standard network charges may apply. Ts&Cs are at makesomenoise.com
Click here to donate online!
Have you been fundraising already? Pay in your money here
Thank you for helping us make some serious noise each year - your support makes a huge difference. The small charities that Make Some Noise funds are often the only place for families to turn to when their lives suddenly change.
Make Some Noise is there to give them a voice and with your help, we're raising as much money as possible for their life-changing work.
Tune in to Heart on Friday 5th October for the loudest day of the year and make sure you get involved!