This woman is running London Marathon dressed as a poo emoji
21 April 2018, 06:00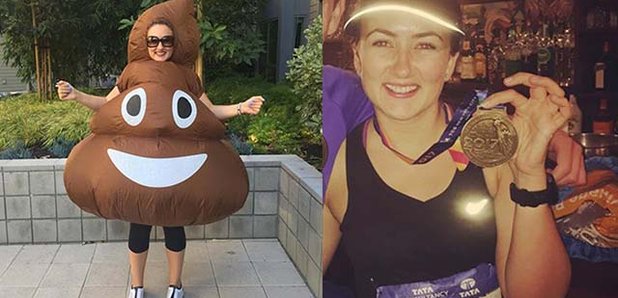 Facebook project manager reveals she will run the London Marathon dressed as a poo emoji – after she was diagnosed with bowel cancer at just 29.
An ambitious professional, who landed her dream job in between chemo sessions for bowel cancer has vowed not to be "a slow poo," when she runs the London Marathon on Sunday, dressed as a poop emoji.
Amy Cameron, 31, of Bromley, south London, developed agonising stomach pains within days of returning from watching the 2016 Olympics in Brazil, undergoing emergency surgery to remove a bowel obstruction, only for medics to find a 4cm long tumour in her colon.
Now cancer free, Amy - who moved over 5,000 miles to San Francisco USA, to start work as a project manager for Facebook, just three days after finishing treatment for bowel cancer, said: "I don't want to be a slow poo.
"I'm hoping for a decent time but, really, I just want to complete it.
"I did the New York Marathon in November, but this is my first time in costume and it makes it very warm.
"I'm hoping people will notice me because of it, though, and that my Bowel Cancer UK sticker will make them think."
Amy wants to raise awareness of bowel cancer after her shock diagnosis (Image: PA REAL LIFE)
Back in 2016, Amy had just returned from Rio, when she started having stomach cramps so severe that she made eight trips to her GP and to A&E.
She said: "At first, I put it down to something I'd eaten, or a bug I'd picked up when I was away, but it kept getting worse until it was unbearable."
Unable to keep food down, Amy lost almost three stone in a matter of weeks and vomited so much, she tore her oesaphagus. Then, on October 27 2016, Amy was taken for emergency bowel resection surgery at Princess Royal University Hospital, Orpington - to remove part of the large intestine - as doctors feared she was suffering from a severe obstruction.
She said: "I was warned they were 95 per cent sure that I would need a colostomy bag afterwards, but I was in so much pain at that point, I didn't care.
"My wonderful surgeon performed a right hemicolectomy, removing a 13cm section of my bowel. Thankfully, he was so skilled I didn't have to have the dreaded C-Bag.
"During the procedure, he removed a 4cm mass, which turned out to be cancer.
"I couldn't believe it. I was young, fit and healthy. I had bowel cancer - that's an old person's disease. I was only 29."
Told she had stage three bowel cancer, although they had managed to remove the tumour during surgery, Amy was informed she would need 12 bi-weekly sessions of chemotherapy, to kill any remaining cells.
She said: "I have beautiful, long, mermaid hair and I dreaded the idea of losing it, so I really didn't want to have chemo.
"I felt like they had removed the tumour and I just didn't want it, but the doctors told me they could give me a type that meant I didn't lose my hair, so I agreed.
"It was still horrible. I felt a bit like I was going insane at points and suffered side effects like numb fingers and toes, but I tried to block everything out, because I wanted to get on with my life.
Amy and a pal after completing the New York Marathon (Image: PA REAL LIFE)
"I was applying for jobs during chemo and doing interviews in between hospital visits."
Amazingly, Amy was offered her dream job by social media giant, Facebook, in June, as she came to the end of her chemo. Agreeing to move to the USA, she set an emigration date for just three days after her treatment finished.
She said: "We agreed that I would come back for regular check ups - but that's fine, because it gives me an excuse to visit home!
"A check-up scan in May showed what they thought was a new lesion on my liver, but after flying home and having surgery, my doctor said it was 'unremarkable.'
"I had the surgery on the Friday evening, bust a stitch cheering a Lion's game on Saturday morning, was discharged early Saturday afternoon and was back in the office on Monday."
Thankfully, Amy's scans have since remained clear and she was declared cancer-free on July 14.
She said: "I still have to go back every three months and am striving to remain cancer free for five years, so I can be discharged.
"I feel incredibly lucky that I have come out the other side. A patient with stage three colon cancer has only about a 40 per cent chance of being cured.
"I wanted to use my experience to do something positive and decided I would run the marathon. I also thought he poop costume was fun and would get people talking.
"Already, I've had people read about it, or young people at work ask me why I'm doing it and I explain that I had bowel cancer and what the symptoms are.
"Now I'm really looking forward to the big race - and hope I can run....like the runs!"
April is Bowel Cancer Awareness Month and this year Bowel Cancer UK and Beating Bowel Cancer are raising awareness of its symptoms. Bowel cancer is the UK's second biggest cancer killer, but is treatable and curable, especially if diagnosed early. Most people diagnosed at the earliest stage will survive, but, sadly, only around 15 per cent of people are diagnosed at this stage.
Being aware of the key symptoms and seeing your GP if things do not feel right can increase chances of an early diagnosis.
To donate to Amy's page, click here.
If you want to run the Virgin London Marathon 2019 to raise money for Heart's charity Global's Make Some Noise, click here.