These LOUD Beauty Trends Will Amplify Any Outfit!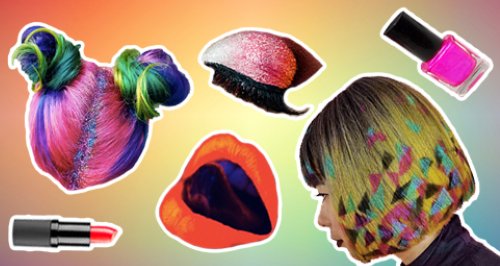 Whether you're heading to a themed party, music festival or just a wild night out, these crazy beauty trends will liven up any outfit!
The year isn't over yet, but so far 2018 has brought us some WILD beauty trends!
Sure these trends may be a bit wacky but they are certainly vibrant and really would make you stand out from the crowd if you gave them a go.
Or they could be perfectly put to use at the next wacky fancy dress party or festival.
For Global's Make Some Noise, we've rounded up this years LOUDEST trends in the beauty world
Glitter Roots
So this happened...people were putting glitter in their roots! And it actually looks so fab - we think it looks totally cute with some bunches or between some scruffy buns like in the photo above.
Glow In The Dark Lips
Heading on a night out? These will make you stand out across the club no problem! As most beauty trends, this emerged on Instagram and we are SO wanting to give it a try...
Clown Contouring
This may look loud but the end result actually isn't! We all know what contouring is, but to make things more fun many YouTubers and beauty bloggers drew their contours and highlights on in crazy ways to show the true magic of makeup....it looks completely normal again once its blended!
Hair Stencils
Scared to dye your hair a crazy colour? This temporary solution might be for you! Creative folk across beauty land are using their extremely tamed hair, temporary coloured hairspray and stencils to add a pop of colour to their locks.
Give dressing loud a go! It's seriously as fun as it looks...