Global's Make Some Noise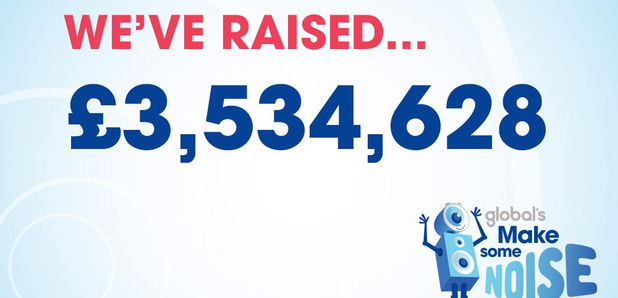 Find out a little bit more about how Make Some Noise is making a difference to the lives of disadvantaged children across the U.K.
Global's Make Some Noise is Heart's very own charity, supporting small but brilliant projects across the UK.
We do this by supporting specially selected projects up and down the country, which deliver life-changing work to youngsters and their families living with illness, disability or lack of opportunity.
On Friday 6th October Heart teamed up with our sister stations across the Global family - Capital, Capital Xtra, Classic, Gold, LBC, Radio X and Smooth - for GLOBAL'S MAKE SOME NOISE DAY to raise money and give a voice to small projects that don't get heard.
By joining us to make some noise, you can help small charities have a big impact!
JOIN HEART'S 30 in 30
The £30 you raise in 30 days will ensure these incredible small projects can continue to deliver their life-changing work and help give disadvantaged children and young people a brighter future. You can bake, you can run, you give up chocolate! How you do it is up to you! Just have fun and help change young lives and sign up now!
DRESS LOUD!
By dressing loud for the day and making a donation, you can help us change the lives of disadvantaged children and young people across the UK.
COMPETITIONS!
We gave you the chance to win some AMAZING prizes in the lead up to the day and even MORE prizes on the day through a string of AMAZING competitions.
DONATE!
Every pound made a huge difference and you can still help to support the cause by donating online, via mobile text or even doing your own fundraiser!