Watch The Emotional Moment Alecia Is Surprised By Her Hero Michael Bublé For Make Some Noise!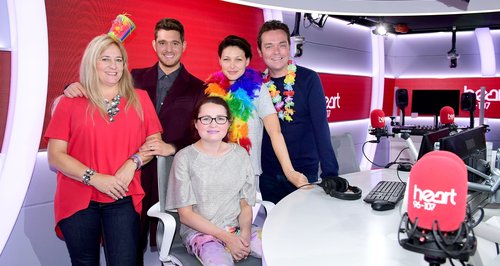 Alecia is supported by one of the charities Global's Make Some Noise is raising money for today.
It's every girl's dream to meet her childhood hero, especially when that hero happens to be Michael Bublé.
When 18-year-old Alecia and her mum Lian visited Stephen Mulhern and Emma Willis in the Heart studio for Global's Make Some Noise, they had NO IDEA that this was going to happen.

Alecia suffers from A-T, a rare genetic disabling condition which affects a number of different system in the body. Alecia and her mum are supported by the A-T Society, just one of the projects we're raising money for with Global's Make Some Noise.
Whilst chatting to Stephen and Emma in the studio, Lian and Alecia told them about how much they LOVED Michael Bublé.
"Well we've got a bit of a surprise for you because we actually know you like Michael Bublé..." said Emma. "And we also happen to know Michael Bublé!"
"He's said that we can call him up on Facetime for a chat!" continued Stephen.
Not only did Lian and Alecia get to speak to him via video call, THIS happened: Michael Bubleé himself walked into the studio. We know, right?!
Emma said: "We try to make dreams come true and they were absolutely gobsmacked which was brilliant to see. Alecia's little face, her eyes were all shiny, I thought she was going to cry at one point, but they just kept giggling and he was brilliant with them."
"For me, Global's Make Some Noise is an absolutely brilliant day because we are helping children and young people who have some form of disadvantage or illness or disability, that are supported by small charities," said Stephen. "Small charities rarely get heard, so if we can make a massive noise for those people that really need it, then it's good all round."
If you'd like to donate, click the banner!