These People Are Doing AMAZING Things For Charity With Their First New Fiver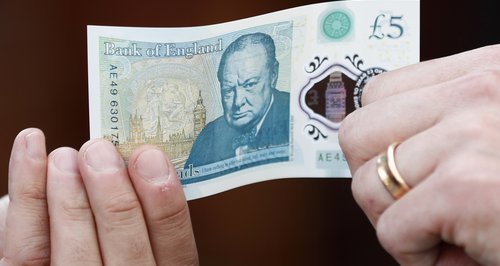 The new currency has inspired people to do something charitable...
The new five pound note has FINALLY arrive in people wallets, but instead of choosing to spend the waterproof currency on something frivolous a wave of people are now choosing to put it towards a good cause.
The spontaneous trend started when John Thomspon took to Twitter to reveal his plans to give the five pound note to charitable causes, and encouraged his followers to do the same using the hastag #fivergiver.
I'll donate the first new five pound note I get to a charity. Will you?
#fivergiver

— Johnny Five (@JTCHANGINGBIZ) September 16, 2016
Now the trend has actually caught on, and Twitter has become flooded with people who are also keen to do their bit for those in need.
Loving the #firstfiver idea. Pledge to donate your first new £5 note to a charity. Who will yours be going to? #fivergiver

— Sarah Goddard (@FundraiserSarah) September 18, 2016
I will be donating my first #newfiver to @childsi - what will you do with yours? #fivergiver #firstfiver pic.twitter.com/qAGo0hEzzT

— Richard Sved (@richardsved) September 20, 2016
Off into Manchester, the first charity I come across gets my fiver. #fivergiver pic.twitter.com/0t6AZjmDda

— Jack (@Jack_T11) September 21, 2016
So how will could you spend YOUR fiver?
Well, Global's Make Some Noise raises money for very special small projects that change the lives of children, young people and their families.
On Friday 6th October Heart is fundraising for GLOBAL'S MAKE SOME NOISE DAY to give a voice to small projects that don't get heard. Find out how you can get involved here, or if you'd like to donate click the banner below.