Meet the man running the London Marathon in a suit of armour
19 April 2018, 16:41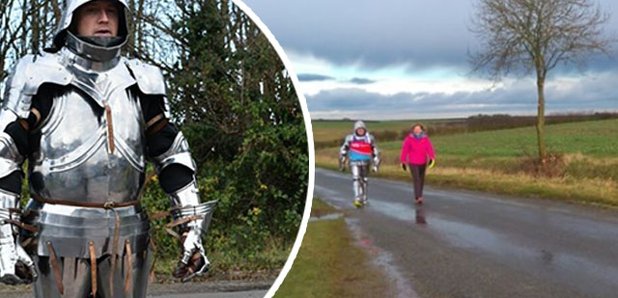 He's taking on the scorching marathon heat this weekend in a 30kg suit of armour.
Paul Beddows hopes to break the Guinness World Record for the fastest marathon in a suit of armour.
He will be taking on highs of 20-24 degrees in an outfit that weighs "about 30 kilos" - which he described as the equivalent of 30 bags of sugar!
Talking to Heart, he explained: "I've always wanted to do a big charity event.
"I've done 4 iron man triathlons and I knew my mates wouldn't sponsor me to do another one.
"So I thought pick a crazy event, and there was 3 of us sat doing nights last may, looked at some of the world records, I saw the world record for the one in armour and I thought yeah I can do that one."
Paul who will run this Sunday, admitted he's received "quite a few crazy looks" whilst training outside, in his full on armour gear.
And on the topic of how he'll go about using the loo, he explained: "I've got two options, I can stop and get it out and go for a wee or if time's short I'm just gonna wet myself."
The proceeds that Paul raises will go to armed forces charity SSAFA.
Heart presenters Rochelle Humes and Jenni Falconer will also be running the marathon this weekend.
If you want to run the Virgin London Marathon 2019 to raise money for Heart's charity Global's Make Some Noise, click here.
Watch more: