Ellie and Anna Have Issues: Don't miss Heart's hilarious podcast
16 November 2018, 12:58 | Updated: 23 January 2019, 10:49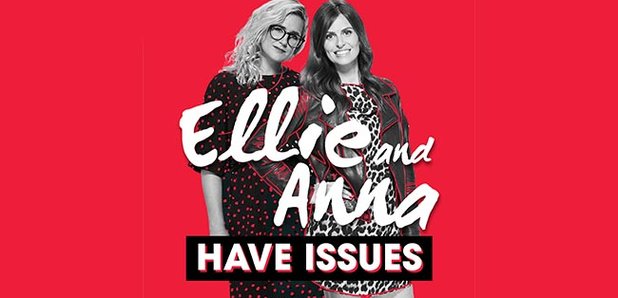 Heart's cult Sunday night show Ellie and Anna is now available as a podcast - and it's packed full of extra unheard content.
Ever since they joined the Heart family, Sundays have been upgraded from worst day of the week to the ultimate girls' night in.
Regular listeners of Ellie and Anna's Heart show will know that nothing's off limits - and now you'll be able to enjoy even more of our 30-something presenters' observations, struggles and musings from the last seven days.
Dating, sex, to family matters, fashion disasters and those little things you notice and need to tell someone, Heart's very own dynamic duo don't hold back.
And now you won't have to wait until Sundays to get your E&A fix, Heart's new podcast lets you catch up with the girls whenever you want.
Whether you're commuting, tackling a Herculean pile of 'adulting', or just trying to drone out the sound of your colleagues, Ellie and Anna have got your back.
Don't forget that each week's podcast will also feature new extra content that was simply too rude for radio... subscribe now and don't miss out.
Ep 1: Announcing you're pregnant / Social media bragging
Ellie's preggers! Ellie and Anna discuss the weird and wonderful reactions you get when you tell the world that you're pregnant. Why is it so awkward and why does it compel friends and family to say the stupidest things? There's also a theory that bragging on social media is actually good for you.
Click here to listen to or subscribe to episode 1
Ep 2: Work nights out / Male attractiveness
Ellie and Anna had their first Public Engagement this week! They went to the Heart office party and managed to behave themselves, but it brought back memories for Anna of when she once did the walk of shame into the office and Ellie remembered trying it on with Josh Hartnett at a work do. Work nights out can be difficult to navigate! There's also a new survey telling men what women find attractive. Beards, extreme sports and red trousers ahoy!
Click here to listen to or subscribe to episode 2
Ep 03: Scroll free September / Could you work with your other half?
It's Scroll Free September so Ellie and Anna try to figure out whether they could give up social media for a month and live without videos of slime, blackhead popping and soap carving. Plus, the X Factor's back which means a) it's nearly Christmas and b) Ellie wonders if she and her husband could work together like Robbie and Ayda. She turns to Anna for advice... and Anna's husband Matt. Who works with Anna.
Click here to listen to or subscribe to episode 3
Ep 04: Sexting / Personal Grooming Nightmares
Anna was in quite a flap this week after she had a close shave – literally – and ended up in A&E, so the two discuss the perils of personal grooming. Prepare to be glued to your knickers. Also, Ellie and Anna talk about sexting, and whether they're any good at it. As you'd expect, this leads to stories of radiator valves, 'knick knocks' and helmets of the motorcycle variety.
Click here to listen to or subscribe to episode 4
Ep 05: Sexting / Personal Grooming Nightmares
Ellie and Anna share their memories of when they first met – it involved baby poo. The girls go on to discuss the art of making a good first impression, from spitting out water on a Mary Berry lookalike to extended eye contact, and an irrational dislike of sequin hairbands. Plus, after Mark Walhberg shared his gruelling personal routine online, Ellie and Anna work out whether they have enough snack time on a day-to-day basis.
Click here to listen to or subscribe to episode 5
Ep 06: Sexting / Winning
Following the news that Richard Gere's going to be a father at the age of 69, 'geriatric mothers' Ellie and Anna consider the dos and don'ts of growing old gracefully - or disgracefully – and wonder whether they're in ageing denial.
Click here to listen to or subscribe to episode 6
Ep 07: Online Dating Data / Making New Friends
According to a recent survey about online dating, men are 30 percent more likely to make the first move. Anna and Ellie discuss their limited experience of online dating and ask listeners to share their weirdest stories. Who knew humping a toilet roll was a way to woo? Also, Ellie's getting ready to meet her NCT group this week and wants to make a good impression with her fellow parents-to-be. How can she endear herself to them? Will her classic friendship pick-up line work?
Click here to listen to or subscribe to episode 7
Ep 08: Erotic Novels / Abstinence
Apparently 57% of us read erotic novels. Anna's a big fan of grotty fiction but for Ellie, the subject brings back memories of her parents finding a 'saucy book' under her Simba toy. What other dirty little secrets have been found by family members, and how did they react? The girls turn from Penis Grigio to booze, or rather the lack of it: Ellie's embraced her sober pregnant self but has developed a new addiction. For cereal.
Click here to listen to or subscribe to episode 8
Ep 09: Bad Birthdays / Small Victories
One of the biggest stories in the papers this week leads Ellie and Anna to discuss bad birthdays. Cue food poisoning, getting sacked and proposing to chicken nuggets. Anna admits to forgetting her husband's birthday last week – but it's his fault he didn't remind her, RIGHT?! Also, a recent survey revealed that 92% of Brits believe they've failed to reach their full potential in work, finance, relationships and home life. Oh dear.
Click here to listen to or subscribe to episode 9
Ep 10: Break-up Sex / The Office Whip Round
It's coming up to Christmas, so 'tis the season to split up with your partner to avoid buying presents for people you don't care about any more. Eggnogs all round! A recent survey claims that breakup sex isn't actually a bad thing. Ellie agrees. Anna doesn't. They look at the positive side of breakups, and for some reason pineapple on pizza, GILFs and the Bible all crop up. And seeing as this is Ellie's penultimate show before she heads off on maternity leave, the conversation turns to work
Click here to listen to or subscribe to episode 10
Ep 11: Ellie's Baby Shower!
It's Ellie's last show before she heads off to "squirt out a baby" (her words) so Anna throws Ellie a baby shower. Guests include midwife Clemmie Hooper AKA 'Mother of Daughters' to answer all the tough questions about giving birth, like can Ellie bring a hairdryer and hair straighteners into the hospital, and Matt Coyne, author of 'Man vs Baby', joins the party to share a traumatic tale about getting stuck in a soft play centre.
Click here to listen to or subscribe to episode 11
Ep 12: The Business of Beauty / Sex Toys
It's Zoe Hardman's first show sitting in for Ellie who's on maternity leave, so she comes armed with biscuits. And issues. First up, the business of beauty, so the conversation turns to things falling off your face, hair extensions called Boris, Jackson Pollock paintings and looking like one of the Muppets. Also, Zoe had quite the experience in the supermarket when she saw vibrators on the shelves. Yes, you can buy bullets for less than four salmon fillets!
Click here to listen to or subscribe to episode 12
Ep 13: Dr Alex Joins Zoe and Anna / Spice Up Your Love Life
Cheesy chat up lines, first snogs and sex nooks all feature, along with Alex's experiences in a villa filled with 280 cameras. And after Zoe's friend admitted she and her husband don't have much sex any more, the girls share their top tips about spicing up long-term relationships, from sex on a window ledge (remember: if Brian the neighbour can see you, go for it!).
Click here to listen to or subscribe to episode 13
Ep 14: Relationship Boundaries / Sex Education
An incident on a crowded train last week leads Zoe and Anna to work out what they would and wouldn't do in front of their partners.
Click here to listen to or subscribe to episode 14
Ep 15: Relationship Boundaries / Sex Education
Zoe and Anna are intrigued by a new survey that explores the effects social media has on our relationships.
Click here to listen to or subscribe to episode 15
Ep 16: PDAs / What People Think About Before Sex
The recent debate about David Beckham giving his daughter a peck on the lips leads Zoe and Anna to discuss the difference between slug kisses and snail kisses.
Click here to listen to or subscribe to episode 16
Ep 17: Dress to Impress / Getting over Breakups
The image of a fabulously-dressed Beyoncé performing onstage with a casually-dressed Ed Sheeran led Zoe and Anna to chat about different expectations of the effort men and women should put into their appearance.
Ep 18: Hosting Christmas Parties / The Perils of the Nativity Play
The one and only Jilly Cooper recently revealed her top tips for hosting a Christmas party. Naturally, they are fabulous.
Zoe and Anna dissect Jilly's hosting rules and throw in a few of their own.
Click here to listen to or subscribe to episode 18
Ep 19: The Christmas Party Show!
Zoe and Anna are joined by special guest Giovanna Fletcher to chat about opening gifts of sexy lingerie in front of your parents and how on earth more babies are conceived over the festive season when there's so much to do and so many family members to look after or entertain.
Ep 21: Body Positivity In Relationships / Talking Finances With Your Partner
This week we're learning to love the jiggle and embrace the days of the less perkier boob, as well as tackling the oh so erotic topic of the tax return.
Ep 22: Masculinity / Women Watching Porn
In this episode, Zoe & Anna tackle this week's (cue Alan Partridge impression) HOT TOPIC... Masculinity! Is there a need for men to change?