Ellie and Anna Have Issues: Don't miss Heart's brand new podcast
14 September 2018, 11:58 | Updated: 19 September 2018, 15:39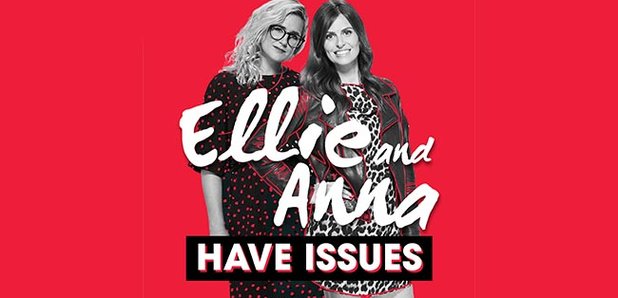 Heart's cult Sunday night show Ellie and Anna is now available as a podcast - and it's packed full of extra unheard content.
Ever since they joined the Heart family, Sundays have been upgraded from worst day of the week to the ultimate girls' night in.
Regular listeners of Ellie and Anna's Heart show will know that nothing's off limits - and now you'll be able to enjoy even more of our 30-something presenters' observations, struggles and musings from the last seven days.
Dating, sex, to family matters, fashion disasters and those little things you notice and need to tell someone, Heart's very own dynamic duo don't hold back.
And now you won't have to wait until Sundays to get your E&A fix, Heart's new podcast lets you catch up with the girls whenever you want.
Whether you're commuting, tackling a Herculean pile of 'adulting', or just trying to drone out the sound of your colleagues, Ellie and Anna have got your back.
Don't forget that each week's podcast will also feature new extra content that was simply too rude for radio... subscribe now and don't miss out.
Ep 1: Announcing you're pregnant / Social media bragging
Ellie's preggers! Ellie and Anna discuss the weird and wonderful reactions you get when you tell the world that you're pregnant. Why is it so awkward and why does it compel friends and family to say the stupidest things? There's also a theory that bragging on social media is actually good for you.
Click here to listen to or subscribe to episode 1
Ep 2: Work nights out / Male attractiveness
Ellie and Anna had their first Public Engagement this week! They went to the Heart office party and managed to behave themselves, but it brought back memories for Anna of when she once did the walk of shame into the office and Ellie remembered trying it on with Josh Hartnett at a work do. Work nights out can be difficult to navigate! There's also a new survey telling men what women find attractive. Beards, extreme sports and red trousers ahoy!
Click here to listen to or subscribe to episode 2
Ep 03: Scroll free September / Could you work with your other half?
It's Scroll Free September so Ellie and Anna try to figure out whether they could give up social media for a month and live without videos of slime, blackhead popping and soap carving. Plus, the X Factor's back which means a) it's nearly Christmas and b) Ellie wonders if she and her husband could work together like Robbie and Ayda. She turns to Anna for advice... and Anna's husband Matt. Who works with Anna.
Click here to listen to or subscribe to episode 3
Ep 04: Sexting / Personal Grooming Nightmares
Anna was in quite a flap this week after she had a close shave – literally – and ended up in A&E, so the two discuss the perils of personal grooming. Prepare to be glued to your knickers. Also, Ellie and Anna talk about sexting, and whether they're any good at it. As you'd expect, this leads to stories of radiator valves, 'knick knocks' and helmets of the motorcycle variety.
Click here to listen to or subscribe to episode 4
Ep 05: Sexting / Personal Grooming Nightmares
Ellie and Anna share their memories of when they first met – it involved baby poo. The girls go on to discuss the art of making a good first impression, from spitting out water on a Mary Berry lookalike to extended eye contact, and an irrational dislike of sequin hairbands. Plus, after Mark Walhberg shared his gruelling personal routine online, Ellie and Anna work out whether they have enough snack time on a day-to-day basis.
Click here to listen to or subscribe to episode 5