Join Heart for the Big NHS Singalong live
4 July 2018, 17:06 | Updated: 8 August 2018, 11:42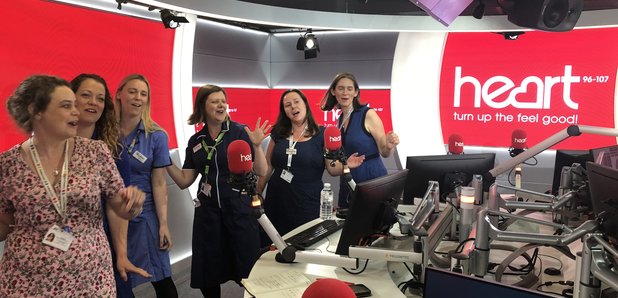 We're celebrating the NHS's 70th birthday with a world record attempt... here's how to get involved.
On Thursday 5th of July, the NHS celebrates its 70th birthday - and we're going to mark it in an unforgettable way
The night before, we're joining forces with the NHS Choir, NHS staff, ITV and some of the most famous names in music for an incredible WORLD RECORD ATTEMPT.
We will be attempting the break the record for The Most People Singing Live on a Radio Broadcast.
Join Sian Welby from 7pm as she speaks to many of the amazing people involved in this special project.
Live at Abbey Road Studios for the #BigNHSSingalong! #HeartNHS @thisisheart pic.twitter.com/lIvsBFa4xS

— Lilah Parsons (@lilahparsons) July 4, 2018
She'll go live to the world famous Abbey Road studios in London, where the NHS Choir will be joined by star names.
After checking in with them, she'll be joining up with ITV and events around the country to try and become record breakers.
Thanks to @thisisheart for inviting members of the choir onto local heart stations across the southeast.#NHS70 #NHSVoices
Don't forget to buy and download the single from the 6th https://t.co/I4aECWbSiU

— The NHS Choir (L&G) (@Choir_NHS) July 4, 2018
Sneaky pic backstage with @AshleyBanjo ahead of the #BigNHSSingalong! We're ready to break that record @Sianwelby #heartnhs @lilahparsons pic.twitter.com/aBSWu8Vjnu

— Heart (@thisisheart) July 4, 2018
Celebrate the hardworking and dedicated staff of our wonderful National Health Service by buying the charity single here.