Join Santa's Reindeers For A 5K Run!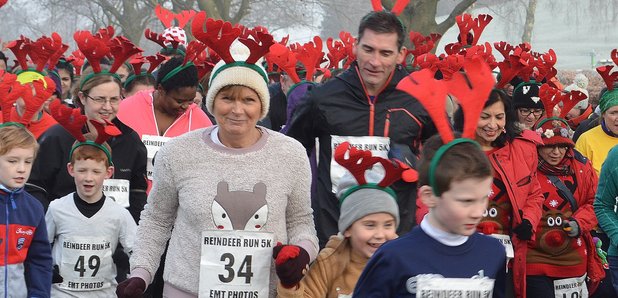 This festive event at Bellahouston Park for Sense Scotland has something for everyone, so get a group of friends, family or colleagues together and kickstart your Christmas celebrations.
Heart's Paul Harper will be kicking off the race, together with the Heart Angels who will be there to cheer the runners along. The choice is yours, you can run, jog or walk the 5K route held at Bellahouston Park, Glasgow on Sunday 3rd December.
Enter now and join santa's reindeers who need to keep fit to be able to pull his sleigh with all those toys for girls and boys. All entrants will receive reindeer antlers to wear and a goodie bag at the finish line.
This is a fundraising event to support the work of Sense Scotland, entry fees are £10 for adults and £5 for children, with a sponsorship target of £100, or more!
There's also a Toddler Dash which is open to kids on the day, donations are welcome instead of an entry fee. So bring the whole family for a fun-filled day full of Christmas spirt.
Reindeer Run 5k
Bellahouston Park, Glasgow
Sunday 3rd December
Enter Online Here Today!
or text Rudolf to 70660 or call 0300 330 9292

Sense Scotland started as a small group of families offering services for their children, who were affected by deaf blindness, many because of maternal rubella. Since then, the organisation has gone on to successfully support thousands of disabled people and their families, in thousands of projects and services, throughout Scotland. Learn more about Sense Scotland here.