1st Christmas Baby In Glasgow
26 December 2017, 07:13 | Updated: 26 December 2017, 07:15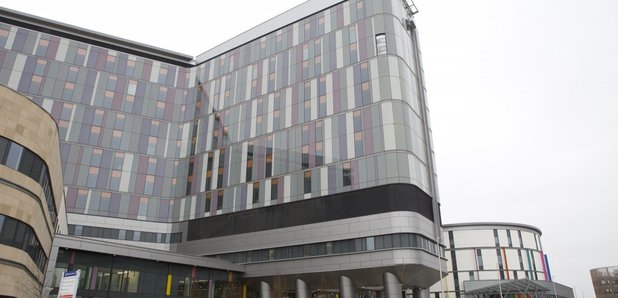 The "best present ever" came with the birth of babies across Scotland on Christmas Day.
It is believed the first newborn came "10 seconds" after the stroke of midnight on Monday.
Karen Ratcliffe brought her first child into the world just moments into Christmas Day at Queen Elizabeth University Hospital, Glasgow.
The 36-year-old said: "He was due in January, so we weren't expecting him, but having him on Christmas is quite exciting.
"His head was out at 11.59pm and his body came out just seconds after midnight.
"He's been great, a very calm baby - we're very lucky."
Mrs Ratcliffe and her husband Michael, 33, were looking forward to taking the little boy, not yet named, home to Glasgow on Tuesday.
She added that he would probably have a special day for his birthday on Christmas Eve and they would all celebrate Christmas Day as a family.
Victoria Watson, 35, gave birth to Noah at home in Airdrie at 2.12am.
The baby, weighing eight pounds, came two days later than due, but was now the "best Christmas present ever" for his older brother Ben.
Ms Watson said: "He's over the moon, it's the best Christmas present ever for him."
Firefighter Stuart, 39, delivered his son with the help of a midwife, who was on the phone.
Her husband's emergency service background was very useful, helping to keep everyone composed throughout the process.
Ms Watson added: "It was quite a nice experience - no stress at all."
Because Noah was born on Christmas Day, she said it would mean his birthday would always be extraordinary.
She said: "He will always be spending it with family, we're quite family-orientated, so it will always be special."
Mary Ferguson, of Maryhill, Glasgow, had her second child Lucy at 12.10am.
Despite giving birth to a little girl weighing seven pounds and 11 ounces, by the afternoon she was getting ready to cook the Christmas dinner.
Ms Ferguson, who gave birth at Princess Royal Maternity Hospital, said: "Now I'm just looking towards going home to get Christmas dinner, which I'll be cooking.
"I feel fine, I don't know what we'll be having. We'll just have to wait and see when I get home."
Lucy was due on the 27th, so it was a bit of a shock for her and her partner Paul Hampson when labour started on Sunday.
But the newborn has come as a surprise gift for her five-year-old brother Keiran.
Ms Ferguson added: "She's a great Christmas present. He's been involved all the way through the pregnancy, he's just saying he can't wait to see her."
In Ayrshire Maternity Unit, the first to arrive was baby girl Harris at 3.17am, weighing eight pounds two ounces.
She came as a "lovely" Christmas present for mum Laura Hunter and dad Paul MacLeod from Ayr.
Pitmedden parents Nataleigh and Stephen McGonagle welcomed their second child at 5.39am, weighing six pounds four and a half ounces.
But the boy, who does not yet have a name, will have to wait before he can meet his big sister Orla, two, because she has chicken pox.