226000 applications for Queensferry Crossing walk
6 July 2017, 17:49 | Updated: 6 July 2017, 17:51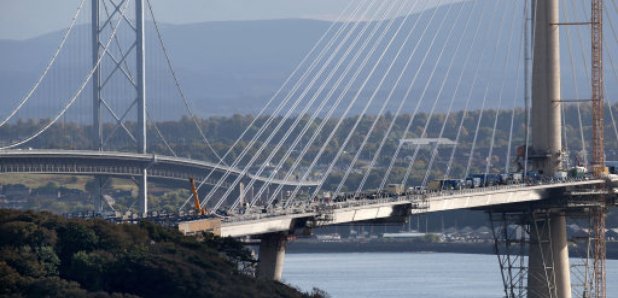 More than 220,000 people have applied for 50,000 places for a "once-in-a-lifetime'' chance to walk over the new Queensferry Crossing soon after it opens next month.
The new 1.7-mile bridge will open to traffic on August 30 and will then close on the weekend of September 2 and 3 to allow people to walk over it.
The online ballot for places has now closed and 50,000 people will be randomly selected, with those chosen given 48 hours to confirm they want to attend.
In total, there were 82,198 separate ballot entries, comprising a total of more than 226,000 individuals.
Almost all (97%) of entrants have Scottish addresses, with just over half (51%) hailing from the postcodes most directly neighbouring the bridge.
However, 5,180 individuals entered have postcodes from elsewhere in the UK and the remaining 437 are from elsewhere in the world, including the US, India and one single entrant from Slovakia.
Economy Secretary Keith Brown said: "We're delighted with the response to the Queensferry Crossing Experience, it really proves just how strongly the new bridge has captured the imagination of the public in the past decade of consultation, development and construction.
"The process to randomly select the lucky 50,000 is now under way and we would ask everyone who has entered to keep their eyes on their email inboxes as, if selected, you only have 48 hours to confirm your attendance.
"It is also pleasing to see the large amount of ballot entries hailing from local postcodes which should ensure local communities are well represented over the weekend.
"To have a walking event of this scale is fantastic for all those successful in the ballot, providing a close-up view of the impressive new crossing and a unique way for people to be physically active.''
The £1.35 billion bridge across the Forth was due to open last December but its completion was delayed by adverse weather conditions.
Announcing the ballet last month, Mr Brown described it as a "once-in-a-lifetime chance'' to walk across the bridge before it becomes a motorway with no pedestrian access.