Fire Crews Still At Scene Of Glasgow Scrapyard Blaze
6 March 2017, 05:21 | Updated: 6 March 2017, 10:31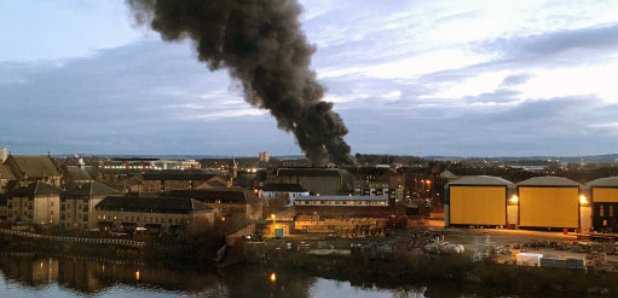 Firefighters remain at the scene of a massive blaze that sent large plumes of smoke into the air and cut off power to thousands of homes.
The fire at a car scrapyard near Glasgow's Ibrox Stadium broke out at about 4.30pm on Sunday.
Smoke billowing from the blaze could be seen rising above the city from 40 miles away, when the incident was at its peak.
About 50 firefighters were involved in tackling the blaze at its height, with crews working through the night to combat the inferno.
Teams currently remain at the site to dampen down the hotspots, a spokeswoman for the Scottish Fire and Rescue Service (SFRS) confirmed.
Some businesses in the area are closed, with people arriving for work reportedly being turned away on Monday morning.
Road closures also remain in place around the area, police confirmed.
During the initial stages of the incident, water reportedly had to be pumped from the River Clyde to douse the flames and hoses were laid a kilometre (0.6 miles) through nearby streets.
Scottish Power said one of its buildings was involved in the fire and power had to be shut off to 3,000 properties in the Govan area on Sunday as a precaution.
Electricity was restored to customers at 9.50pm on Sunday, the company said.
SP Energy Networks tweeted on Monday: "Thank you to our customers in Govan for your patience and understanding last night due to the fire very close to our substation.''
Peter Heath, SFRS deputy assistant chief officer, said the fire had engulfed a building about 100 metres by 40 metres before spreading to a large yard at the back full of tyres.
Firefighters worked to protect an electricity sub-station supplying a "significant part of Glasgow and Govan area'', he said.